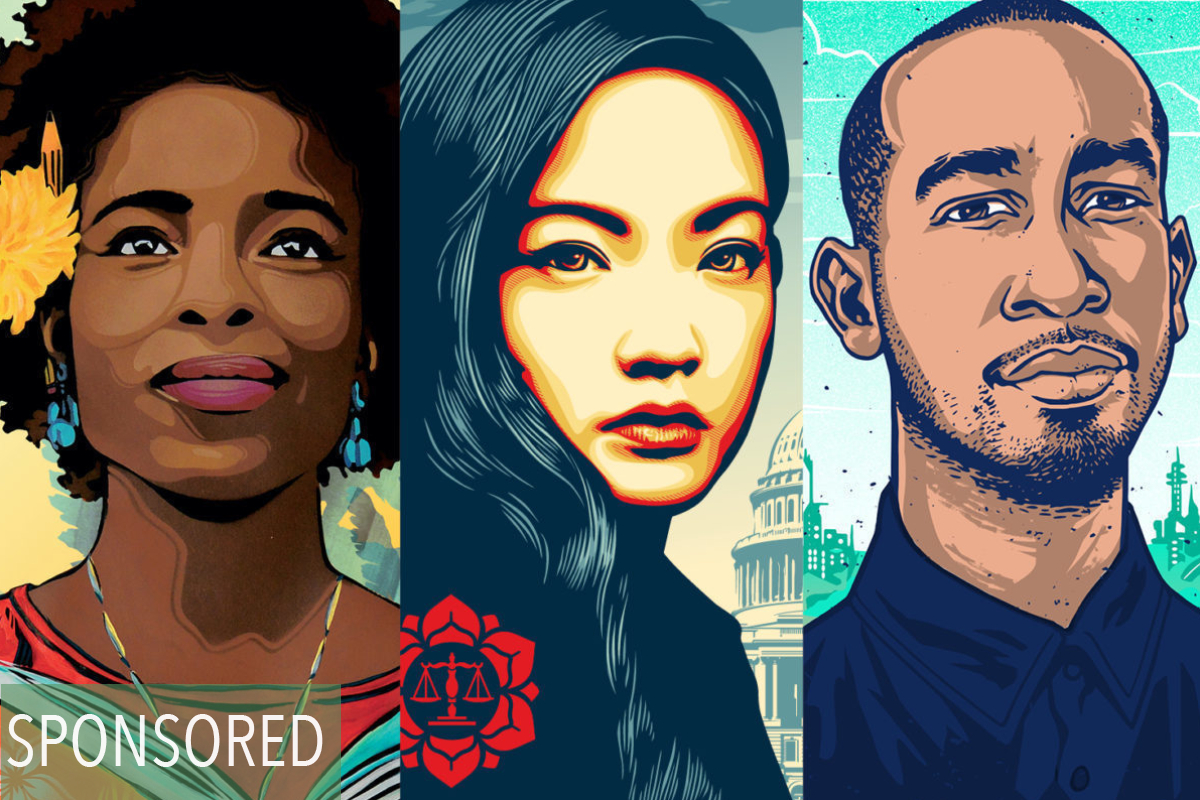 The Bill & Melinda Gates Foundation Discovery Center presents We the Future: Young Leaders of Social Change, an exhibition that illuminates the stories of 10 young people working to build an equitable and sustainable world. Inspired by Amplifier's We the Future education campaign and co-curated with the Gates Foundation Discovery Center's Youth Ambassador Program, the exhibit celebrates youth leadership and the actions they can take across a variety of social justice movements. 
The exhibition stems from the We the Future education campaign created by Amplifier, a nonpartisan, Seattle-based design lab that builds art to amplify the voices of grassroots movements. Amplifier draws from a deep portfolio of artists to build symbols, language, and distribution strategies that can change the national narrative. The organization's art campaigns address issues such as voting rights, climate justice, gun violence, and the evolving American identity.
 The Discovery Center's Youth Ambassadors, a cohort of high-school students, were critical to the development of the We the Future exhibit, contributing to its design, communications, public programs, and visitor experience. The Youth Ambassador Program is for high school-aged youth who care deeply about fostering inclusion and belonging. 
Youth Ambassador Julia Dinh, said: "We the Future was an amazing opportunity to help plan an exhibit. It is not every day that you are able to go through the design process. I thoroughly enjoyed every part of it and working with my peers over the past few months."
We the Future features iconic art posters of each young leader, created by artists Shepard Fairey, Kate DeCiccio, Rommy Torrico, and Munk One in collaboration with Amplifier. Free posters are available for visitors to take away and post in their communities. The exhibit also includes hands-on art making, brave spaces for community dialogue, a series of public programs, including a conversation with Artist and LGBTQ+ activist Lindsay Amer – one of the Young Leaders featured in the exhibit – on November 7 at 5:30 p.m. 
"Visitors will experience an immersive exhibition that brings to life not only the power of art but also key concerns of young people today," said Cleo Barnett, Deputy Director for Amplifier. "With a goal to flip observers into participants, this exhibition is intended to empower each visitor with tools to take action in their community."   
We the Future also highlights young changemakers from Washington State through the 100 Changemakers Project — an effort to recognize the power of youth in our area to make a difference. Each month, the exhibit features the stories of 10 local young people who are working to create positive change in their communities. 
Through We the Future, its programs, and its permanent galleries, the Discovery Center seeks to help visitors stand up for justice by connecting them with nonprofits throughout the Seattle area. Dinh states, "I hope that everyone who visits the Discovery Center finds an interest in taking action in their own communities and takes some time to learn about organizations." 
For more information and to see exhibit-related programming visit discovergates.org/wethefuture.