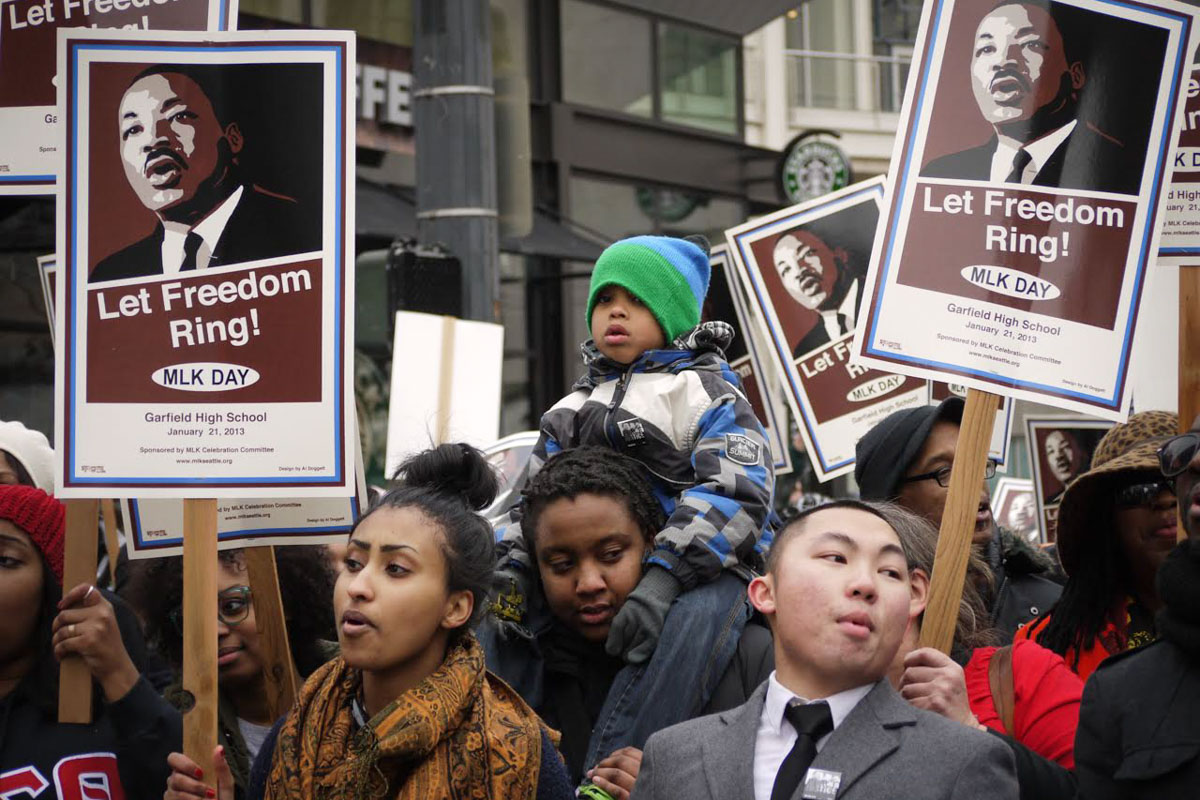 Martin Luther King, Jr. Day is approaching, and in honor of Dr. King, there are a variety of organizations that will spend the holiday to educate, heal and inspire community members.
The events address a variety of challenging issues in our society. There are many service events and volunteer projects — far too many to fit into one article — so here are just five ways to participate and make your day off a day on.
Youth Celebration by Seattle MLK, Jr. Organizing Coalition
The Seattle MLK, Jr. Organizing Coalition's  2019 Youth Celebration is an open mic event where young future leaders interpret and discuss Dr. King's dream through various performance arts such as song, dance, and spoken-word.
This year's theme is "Affirmative Action = Justice" and encourages individuals to continue to participate in events organized to spark a positive social change in the world, according to its event page in The Stranger.
The MLK Jr. Organizing Coalition is a non-profit that is made up of other organizations that are motivated to make a progressive change through volunteer work. The group puts together the largest annual event in honor of MLK in the Seattle area.
This family-friendly event will feature a DJ, free admission and food, and will be Sunday, Jan. 20 from 2 p.m. to 5 p.m. at the Langston Hughes Performing Arts Institute.
Seattle Martin Luther King, Jr. Day March at Garfield High School
Seattle MLK, Jr. Organizing Coalition has also put together a march in celebration of MLK. The march will begin at 12:30 p.m. on Monday at Garfield High School and head to Westlake Park in downtown Seattle.
The day starts at 8:30 a.m. with a Career and Opportunity Fair at Garfield with over 50 participating businesses. The event also includes more than 20 workshops that will address a wide range of topics, from bystander intervention to modern segregation.
An 11 a.m. rally will kick off the march, and there will be another rally at the end at Westlake Park, which is expected to be around 1:30 p.m. The rallies will feature multiple guest speakers and performing artists.
This year, all of Seattle MLK, Jr. Organizing Coalition's events are in support of I-1000, an initiative that redefines affirmative action. The initiative was created in response to I-200, the ban on affirmative action in Washington state that voters approved in 1998. The goal behind I-1000 is to provide equal opportunity to all members of the community and increase diversity.
This march takes place on Monday, Jan. 21, with the Opportunity Fair kicking off the day at 8:30 a.m. at Garfield High School.
Revolutionary Self Care Day by Powerful Voices
After the success of a Self Care Sunday held last year, Powerful Voices and United Way of King County (UWKC) will host Revolutionary Self Care Day, an event to promote and emphasize the importance of self-care.
Powerful Voices aims to provide care to young womxn and girls of color, and cited a quote by Dr. King: "Whatever affects one directly, affects all indirectly. I can never be what I ought to be until you are what you ought to be, and you can never be what you ought to be until I am what I ought to be."
Hair, makeup and nail stylists of color will be at the event to pamper participants with haircuts, makeup services, nail art and styling tips. There will be also be a resource fair with fun activities like bath bomb making, dance lessons and tarot card reading, as well as a self-care station set up where individuals can shop free personal hygiene products, makeup, clothing and more.
Powerful Voices was organized by non-binary womxn of color dedicated to giving young girls and women of color a safe space to use their voices. This event is free and will be held on Monday from 11 a.m. to 4 p.m. at Powerful Voices' location on Capitol Hill.
Restorative Justice and Healing by Delridge Neighborhoods Development Association
In West Seattle, there will be a screening of the film "Healing Justice," followed by a discussion and peacemaking circle hosted by Delridge Neighborhoods Development Association (DNDA) and United Way of King County.
The organizers call the event "Restorative Justice and Healing" and their Facebook page states that they aim to define differences in a community, make connections between them, and promote healing within that community and its members.
"Healing Justice" focuses on the U.S. justice systems and how it impacts a community. After the screening, attendees will have the opportunity to participate in discussion and a peacemaking circle, according to their Facebook page.
Peacemaking circles are based off of Indigenous traditions and are meant to gather people together to resolve conflict, help them find inner peace within themselves and each other, and encourage community healing, organizers say.
DNDA is a non-profit organization motivated by social, racial and environmental justice. The event will take place on Monday from 1 p.m. to 6 p.m. at Youngstown Cultural Arts Center.
MLK Day of Service volunteer opportunities listed by United Way of King County
United Way of King County (UWKC) is organizing multiple volunteer events all weekend, offering multiple ways to get involved this MLK, Jr. Day. UWKC's MLK Day of Service is dedicated to making positive changes in the community and fight for social justice through volunteer work. Opportunities include habitat restoration, packing lunches for people facing homelessness and helping with Garfield's MLK event.
All of the volunteer opportunities UWKC is offering and information about each one are posted on their website. To view and register for a project, click here.
Other events
Writer Michael Eric Dyson will be the featured speaker at the 46th Annual Community Celebration of Martin Luther King Jr. The event, organized by Seattle Colleges, will be at noon to 1:30 p.m. Friday Jan. 18 at Mt. Zion Baptist Church. Doors will open at 11 a.m.
Also this weekend, the Seattle Womxn Marching Forward is organizing the third annual Womxn's March on Saturday. There will also be workshops and activities on the theme of "Building Power" Saturday and Sunday. The group also plans to march along on Friday with the MLK March.