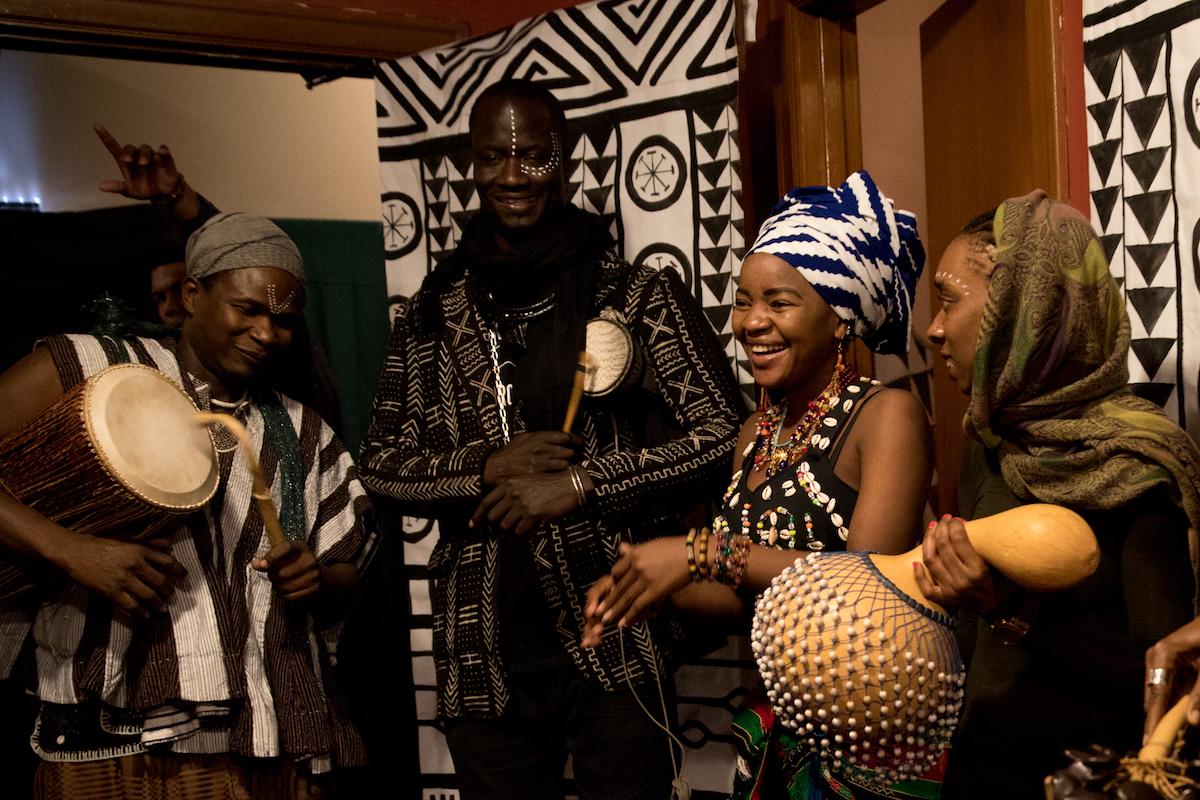 The cultural phenomenon of "Black Panther" is unlike anything we have seen in recent memory. Its vision of an Afrofuturistic Wakanda – a country without White supremacy, colonization, and the legacy of slavery.
The film destroyed box-office records like a vibranium spear, sparked a thousand think pieces, spawned nonstop social media debates and memes (including the best use of the word "colonizer" ever), school curricula and ended once and for all the tired idea that movies with Black casts cannot fill theaters.
Local Black Seattle artists, educators and activists saw the film as an opportunity for something even more revolutionary than just changing Hollywood. For months, groups planned to create a real-life #InWakanda, centering Black audiences and Black joy.
Through their efforts, thousands of Seattle-area Black audience members were able to take a break from what is often an oppressively white city to experience a Weekend of Wakanda.
There were several of these events over the "Black Panther" opening weekend. More than 600 people attended community member Patrice Bell's birthday party — called "Black Panther So Lit" — at Regal Thornton Place Cinemas. At Ark Lodge Cinemas, art group 4Us Collective organized the "Wakanda Weekend: The Ultimate Black Panther Experience."
"This was all about creating space that centered 'us,'" says 4Us member Jazmyn Scott. "One of the primary reasons we wanted to do this event is because we wanted to celebrate Black brilliance in all forms – in film, in community, in fashion, in activism, etc. We have always known that Seattle offers limited opportunities for Black folks to feel celebrated and centered, so we thought this movie and event was a perfect vehicle to do so."
Guests came in beautiful African-print clothing, some in revolutionary Black Panther attire and some in cosplay. The organizers transformed the entire interior of the Ark Lodge with custom artwork, baskets, rugs, tapestries and the Pan-African or Black Liberation Flag — the red, black and green.
4Us Collective was created out of the need for "specially and specifically curated experiences for Black folks in Seattle." The group's vision is that Black guests will come to their events and feel "welcomed, celebrated, and surrounded by Black Excellence" in all forms.
"Black Panther" is an example. Black Panther is the first Black superhero in mainstream comics, Scott says, and the fictional nation of Wakanda is the most technologically advanced country in the Marvel Universe — which has never been colonized by a European nation.
"While fictional, this is still very representative of the strength and resourcefulness of Black and African people around the world. I think in some ways, it serves as a reminder of our strength, beauty and power. It is not lost and can never be taken from us," Scott says.
The Seattle People's Party also planned several screenings, raising more than $12,000 to allow 500 Black youth to attend "Black Panther" for free at the Ark Lodge.
Youth attending the screenings also received a notebook and pen to write their own stories and a specially commissioned poster of Black Panther Party co-founder Huey P. Newton sitting in a peacock chair — but with a Black Panther mask over his face.
Karen Toering, the founder and director of the Gary Black International Film Festival and longtime consulting producer for Seattle's Langston Hughes African American Film Festival says the Black Joy and Black Excellence were palpable.
"There was such a sense of connectedness and I saw our community at its best – caring for one another, sharing a collective joyful experience and having intergenerational post screening discussions about power, love relationships and our future," Toering said. "As the credits were rolling, I loved asking the room if they could see themselves up on the screen and hearing the voices of youth yell 'yes!'"
"Black folks are capable of immense joy even as the power structure seeks to crush us," she said.
Toering says that the impact for Black filmmaking is not just about audience or box-office numbers.
"It reaffirms the fact that Black directors are 'directors,' Black writers are 'writers,' and so on. They are capable, and in the case of directors and writers we know, like Ava, Spike, Singleton, Julie Dash and others, they have to be head and shoulders above the mediocrity that exists in both indie and Hollywood right now. So, fundamentally nothing has changed. Black exceptionalism is still the rule and not the exception. If you are Black, your brilliance has to shine through a sea of white mediocrity to be seen."
Marcia Tate Arunga —  a sociology professor at Seattle Central College, equity consultant, founder of the Cultural Reconnection project, and author of the children's book "The Stolen Ones and How They Were Missed" — says for her, the film was beautiful and bittersweet.
"That is the sadness that stays with me since I saw the movie. That it had to be a science fiction, futuristic invention but indeed it would have been what Africa was. That's who they were, and bankrupted by hostility and takeover and robbery and thievery of their resources. Even when we talk about vibranium, that's just representative of the 75 percent of the world's resources that still reside in Africa and that were pillaged and that's why we have seen a reversal in the progress that has been made in Africa because people were literally stripped of that legacy and that continuation. And that has to be said. That's a sadness in my that just cannot leave me."
Arunga says the film allows audiences, and especially young people, to see themselves and their history in a new way.
"First and foremost we have to understand as African Americans that our history did not begin in the United States. That has been my first barrier. Trying to convey to African American children, including children whose parents might have come from Africa, but are growing up here, that their history is beyond the United States. We were not just negroes where things began here, in the cotton patches of Mississippi predates that. Our history predates that. It was a beautiful and regal and powerful history," she said.
"This is a huge, huge, problem, it's not taught in the history books or schools. By the time we reach these children, we have to prove to them, we are really spending a lot of energy trying to undo what they learned and try to replace it with something that they can feel proud of. I think that's part of the problem we have. I think watching Black Panther is opening passageways for them to consider that what we were saying was true. It's not something we are making up anymore, they can see because those images were put out to them (maybe for the first time) on a Hollywood movie screen."
For Arunga, who is originally from the U.S. but lived in Kenya for 11 years, the film's emphasis on centering African fabrics and clothing, showcasing African languages and showing only natural Black hairstyles helps to change mindsets, especially for Black children.
"I like the say I am in the re-imaging business. Looking at how we re-image Africa. When I lived there and coming back here, people were still using those primitive images of Africa. My mission was really to show them and inform them of the images I saw. The regalness the grace and the dignity. I think the film really validated all of that. I believe that this idea of backwardness, uncivilized, these kinds of images were reversed through the movie."
Arunga hopes that this film will be just the start of that re-imagining for African Americans. In addition to depicting an unapologetically free society, the film fiercely subverted Hollywood's colorism and conventional roles for women, featuring a cast of multi-dimensional Black women characters with strength, brilliance and wisdom.
"It was liberating for every Black child. Those are the things that have revolutionized us. It was like a cloak over our eyes. Even those some of us have always worn African clothing and some of us have always worn our hair natural, some of us have always looked to Mother Africa, and some of us have always tried to bring history to our communities … but seeing that on the movie screen has just gone monumental strides in the positive direction of our imagery."
The best of #InWakanda
In the days leading up to the premiere of "Black Panther," last week, Twitter exploded with witty and biting tweets imagining what life would be like #InWakanda.
#inwakanda there's no need to give our sons "the speech" so they make it home alive

— ReenieKay (@KHAREEN_G) February 13, 2018
#InWakanda when anyone says "black lives matter" the only response is:

"Duuuuh."

— michaelharriot (@michaelharriot) February 11, 2018
#inWakanda we don't have to code switch.

— Elle'Challa (@suburbnista) February 10, 2018
#inWakanda Black characters live until the end of all the movie!

— DrMcDinthemaking (@nubianbutterfly) February 12, 2018