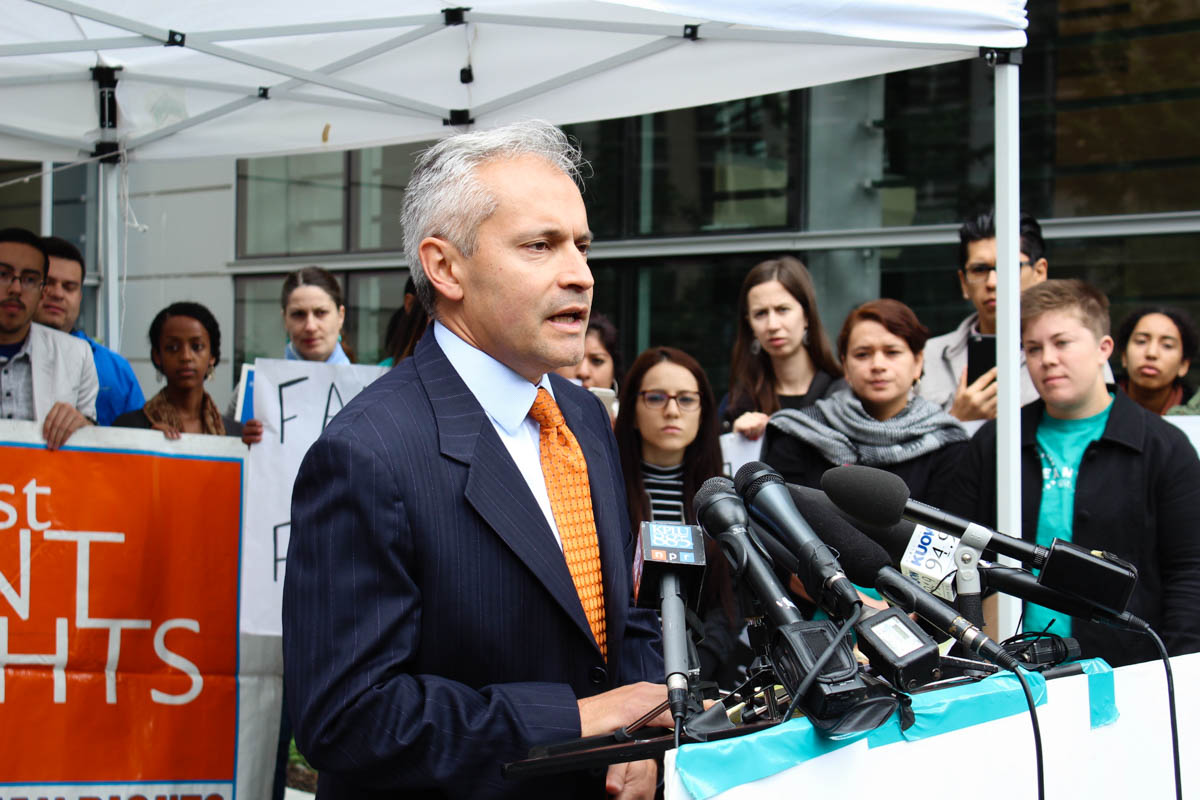 A federal judge on Wednesday temporarily allowed the Northwest Immigrants Rights Project to resume providing legal assistance to people in deportation cases who do not have lawyers, blocking a "cease and desist" from the Department of Justice.
U.S. District Judge Richard Jones's ruling stopped the move by the federal agency, which called for the Northwest Immigrant Rights Project to stop helping immigrants in deportation proceedings who were not fully represented by the nonprofit organization. The Department of Justice claimed in its letter sent last month that lawyers with the Northwest Immigrants Rights Project needed to file official paperwork to fully represent people that they assist or be in violation of federal law.
The Seattle-based group responded with a lawsuit that claimed that the letter prevented them from offering any form of limited legal assistance, and that it would violates the First Amendment by restricting the rights to free speech, to free association and to petition the government.
Unlike in criminal courts, people in immigration courts do not have a right to an attorney and do not get a public defender if they cannot afford to hire their own attorney.
While the Northwest Immigrants Rights Project gives full representation to some of its clients, most immigrants they help get limited assistance, including help with applications, filing motions and advising immigrants on defenses, forms of relief, and the procedural requirements for moving forward on cases.
"We are pleased by today's ruling from Judge Jones and pleased that he issued this temporary restraining order on a nationwide basis so other non-profit organizations can continue their work without the threat of being sanctioned," said Jorge L. Barón, Northwest Immigrants Rights Project executive director in a prepared statement.
"Immigrants will be deprived of legal services and they will have no place else to turn," said James Harlan Corning, an attorney for Davis Wright Tremaine that represented the nonprofit. "Of course the ideal would be to provide full representation to every immigrant in every setting . . . We don't live in that world."
The temporary ruling will remain in effect until the court rules on a motion for a preliminary injunction, according to a press release from the Northwest Immigrants Rights Project.