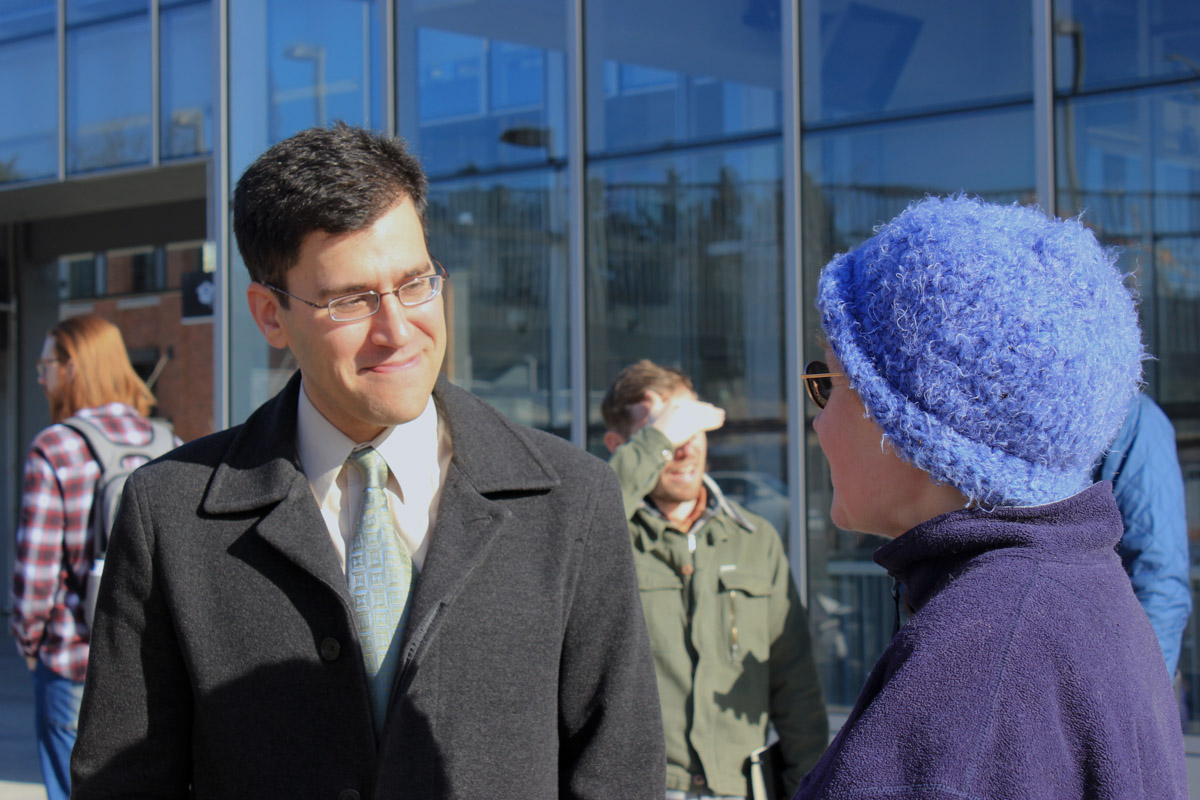 Andres Salomon announced his candidacy for mayor today at a gathering of supporters by the University of Washington Link light rail station. His campaign focuses on reforming transportation policies, policing, zoning laws, and Internet access.
Salomon, an open source software developer, was born in Ecuador and has dual citizenship. His wife came to the United States as a refugee from the Soviet Union at age five. He would be Seattle's first Hispanic mayor.
Salomon said his experience as an immigrant would influence his policies on affordable housing and safe transportation.
"We need to be a welcoming city," Salomon said. "Being a sanctuary city doesn't mean anything if people can't afford to live here. That's going to guide my policies."
Salomon is the first person to publicly announce a mayoral campaign against Mayor Ed Murray in November. Many speculated that Councilmember Mike O'Brien would run, but he said he would not be running last week. Two other candidates, Mary Juanita Martin and Alex Tsimerman, have filed, but neither has raised any money.
Meanwhile, Murry has already raised almost $230,000. The new "Democracy Voucher" program that could help a candidate like Salomon won't be expanded to include mayor's races until the 2021 election.
Salomon said as mayor he would prioritize transportation policies that he thinks are currently underfunded. He cited the protected bike lane network, reduced speed limits, and other aspects of Vision Zero, a safety plan launched by Murray last February.
"Mayor Murray has said a lot of things about what he wants to happen, but hasn't followed through," Salomon said. "These are things I feel strongly about that need to happen for our city. I would be pushing these policies very heavily."
Salomon and his family do not own a car; instead, they commute by bike and public transit. For the past five years, Salomon has volunteered with Seattle Neighborhood Greenways, a group that advocates for road safety.
"We need to work on moving people, and not cars."
He says he hopes to reorganize transportation using a mode-hierarchy pyramid that prioritizes pedestrians and bicycles and puts single occupancy vehicles after public transit.
"We need to work on moving people, and not cars," Salomon said.
Last month, a father of five died after a collision with a car while riding a bike. He had recently arrived from the Philippines and worked two jobs. Salomon said this story demonstrates how transportation safety and immigrant rights are linked.
"That's the reality of our streets right now," Salomon said.
Salomon acknowledged the importance of considering all modes of transportation, not just bikes. He cited the protected bike lane scheduled to be built on Dearborn Street, saying that unless a sidewalk is built next to it, people will use it as a walking space.
Salomon also discussed homelessness and the recent treatment of protesters by police at Sea-Tac Airport. He called for an end to sweeps of homeless encampments like the Jungle.
"Sweeps are helping no one," Salomon said. "I believe that we need social policies and housing first."
Salomon's other proposals include municipal Internet, modifying the proposed King County youth jail, and scrapping plans for the North Precinct police station.
After the announcement of Salomon's candidacy, his wife served vegan tamales and lemonade to a couple dozen of their friends, most of whom arrived to the light rail station by bike. According to the campaign website, supporters can volunteer for the campaign, donate money, or give an endorsement.
Salomon says he hopes to offer Seattle a new perspective on the issues that matter most to him.
"I am an advocate for safe streets for me and my children," Salomon said. "I was born in Ecuador and my wife was a refugee. We want to live in a safe, welcoming city."