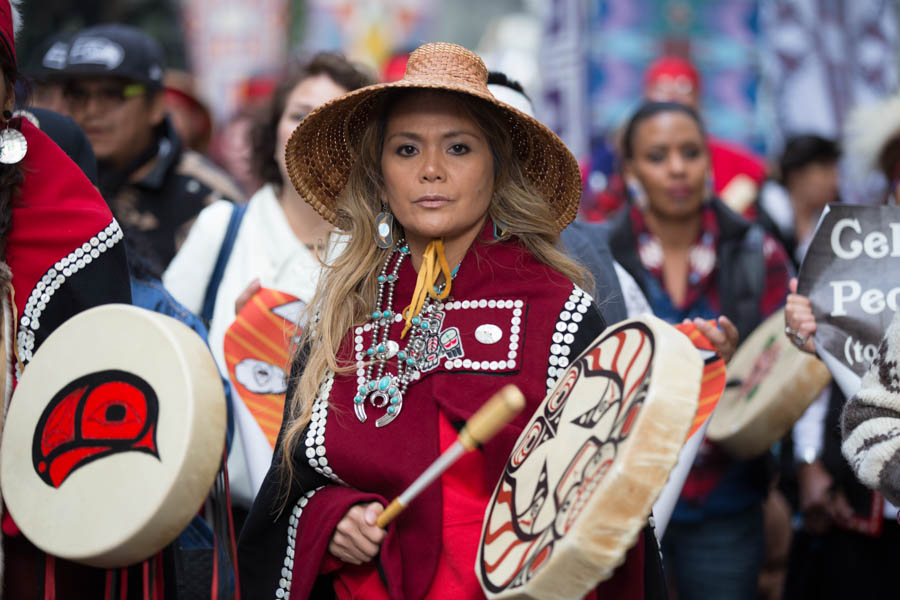 Author Sherman Alexie addressed a crowd of Pacific Northwest tribe members and other supporters who were gathered at the Daybreak Star Indian Cultural Center on Monday, Seattle's third annual Indigenous Peoples' Day.
"Look who we have leading this city, powerful brown women! I'm proud to live in a city where these are our representatives," said Alexie, who is Spokane/Coeur d'Alene Indian. "I'm proud to live in a city that represents us. Fuck Columbus!"
Hundreds of Pacific Northwest tribal members and community supporters gathered and marched in Seattle to celebrate Indigenous Peoples' Day.
Seattle's City Council unanimously voted in 2014 to replace Columbus Day with Indigenous Peoples' Day, making Seattle the third city in the nation to do so after Berkley, CA and Minneapolis.
The celebration included a march in downtown Seattle. Spirits remained high as hundreds marched through the city from Westlake Park to Seattle City Hall, but the construction of the Dakota Access Pipeline weighed on the hearts and minds of many during Monday's celebrations.
The Pacific Northwest is no stranger to protesting fossil fuel extraction or refinement on tribal land. Just last year, the Lummi Nation stopped the largest planned coal export terminal at Cherry Point from being constructed.
Because of tribal treaty rights, indigenous people are often the only way to get major fossil fuel project stopped before they decimate the surrounding environments. The Swinomish, Tulalip, and Suquamish tribe supported the Lummi in their fight against the Cherry Point coal terminal in Bellingham, all concerned with treaty rights protections. The Quinault Indian tribe are also fighting a refinery in Gray's Harbor and a massive rail spur in Anacortes has recently been cancelled due to massive protests bringing negative attention to the project.
Signs demanding an end to the Dakota Access Pipeline were carried next to banners exclaiming "Indigenous is Beautiful" and chants of "Mni Wiconi — Water is life" echoed off the newly constructed canyon-like walls of downtown high rises. Indigenous drummers kept the heartbeat of the march while children skipped ahead and police blocked the streets. Upon reaching City Hall, the marchers were welcomed by a large crowd already waiting.
Celebrations continued at Daybreak Star Indian Cultural Center, where Alexie and artist Louie Gong were both honored with an Eagle Feather for the work they have done with the indigenous community. Also honored for their work were Seattle City Council members Kshama Sawant, who received an Eagle shawl, and Debora Juarez, a member of the Blackfeet tribe, who received a Raven shawl. Juarez and Sawant cosponsored a resolution supporting the Standing Rock Sioux Tribe and their fight against the Dakota Access Pipeline.
The evening events were kicked off by Millie Kennedy, who advocated for the city to adopt Indigenous Peoples' Day, and included traditional songs and dances, including Haida and Pow Wow Squad dancers.