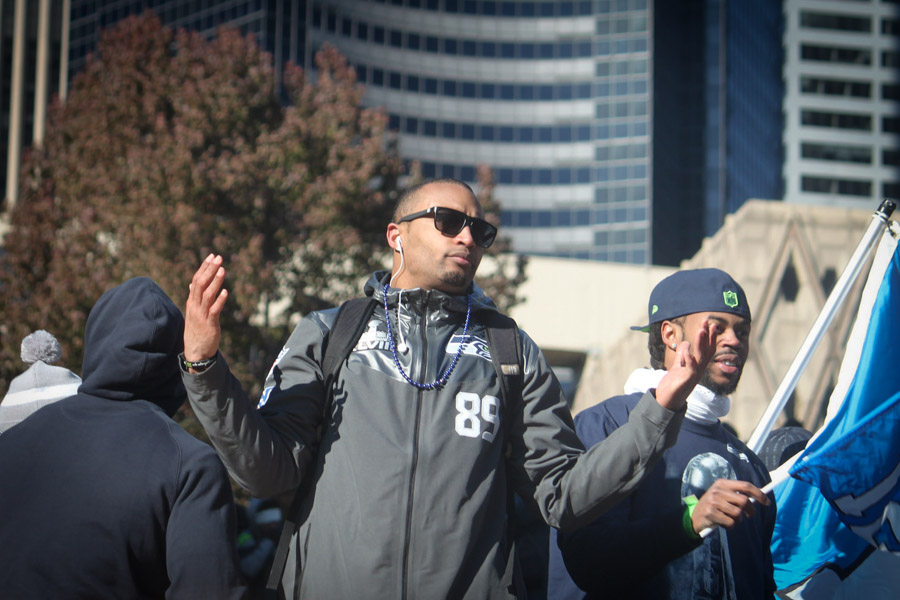 Good game bro. The touchdown catch at the end was clutch. Hopefully we can keep this momentum going for the rest of the season.
But I'm a little unclear as to what happened during the pre-game on Sunday.
The build up to the game gave a lot people the impression that you all were planning on protesting the national anthem, especially considering your tweets earlier in the week.
I'm sure you heard how quickly word spread around the town. So much so that the Mayor of DuPont cancelled their city's Seahawks rally.
I can assure you, despite the potential backlash that you and the team most definitely would have incurred from a good portion of the country, there were plenty of us more than willing to support, bro. We would have had your back through and through.
It's a difficult time for everyone in America right now and taking such a defiant stance on a national stage would have certainly ruffled more than a few feathers. I'm sure you heard what happened with Brandon Marshall and how he's losing endorsements because of his decision to kneel.
When I play out the hypothetical scenario where you actually did kneel as a team during the anthem, I imagine that there would have been so many white people fragile from their privilege who would have experienced the jarring reality that their beloved Seahawks were not mere objects of their ownership, but rather autonomous human beings that have their own opinions, perspectives, and concerns.
White America has the tendency to use sports as a way of escape from the horrors of our country.
It would have demonstrated to so many people that you all are more than just world-class athletes whose only purpose is to win football games for Seattle.
White America has the tendency to use sports as a way of escape from the horrors of our country. It's the respite from the news of another Black person dying at the hands of the police, another war being waged in another region of the world, and another corrupt politician getting away with breaking the law.
Many people of color do the same. The only difference is that, despite the escape for a few hours into sports, when they return there is no privilege to protect them from the harshness of our country.
In my mind's eye, I see if you all would have gone through with it, it would have been something akin to SNL's skit, "The Day Beyoncé turned Black." It would have destroyed this fantasy that their precious football team was virginally pure from the racialized politics of America.
The reality is many of the Seahawks players are Black men who, in any other context, some fans would be too fearful to walk past on the street — or who they would have demonized if they had a fatal run in with the police.
"The difference between a mob and a movement is a follow through." How we'll #BuildABridge: https://t.co/u0F0rVjt63 pic.twitter.com/LSYb1OaLuV

— Seattle Seahawks (@Seahawks) September 13, 2016
A demonstration that prioritizes keeping white people comfortable isn't going to bring about true unity that's actually felt by everyone.
I understand how it could might have looked, protesting during the national anthem on the 15th anniversary of 9/11. I get that the backlash would have been stinging. The virulent racism heaped upon the players that have been taking knees have been serious. It's a potentially dangerous situation. It may not be what you all signed up for, or something that you want any part of.
I get that. Not everyone wants to get involved in politics. However, that doesn't absolve them for the impact from political decisions.
Kneeling during the anthem may not be everyone's style. It could be interpreted as disrespectful. But if we are talking about disrespecting the flag, let's not cherry pick. In all honesty, what I find is leaps and bounds more disrespectful to the flag and the military is not a football player choosing to participate in a symbolic protest. It's the veterans that are homeless after going off to risk their lives fighting in a war waged for the ruling class. It's the veterans wrestling with PTSD, depression, and thoughts of suicide that are not getting the necessary help now that they are back home. These people can risk their lives for the country but as soon as they return they are forgotten and ignored.
Maybe you all didn't ask to be in this leadership role, but nonetheless it's been placed on your mantle.
After the cat was out of the bag and the plans for a "demonstration of unity" was revealed, I couldn't help but think about all of the young Brown and Black kids that look up to you all and see themselves in you. This was the perfect opportunity to validate their experience. All of the racism they face out in their community — maybe they're not able to articulate just yet, but they fell themselves in the clutch of its merciless talons.
The entire "demonstration of unity" really felt just like a different way of saying "all lives matter."
I'm talking about kids from the Central District. White Center. The South End. Beacon Hill. Chinatown. They may not have enough money to purchase season tickets or sit in the luxury boxes being fed like royalty. But they do have the same experiences as many of you — being a Brown and Black person in America.
What would Marshawn have done if he were still on the team? What about Jeremy Lane — what did he think?
To be frank, the entire "demonstration of unity" really felt just like a different way of saying "all lives matter." It felt like a form of silencing.
Instead of addressing the epidemic of police brutality and the ongoing oppression of people of color, this show of unity revealed a lot about where you all stand in this conversation. It provided ammunition to people unwilling to acknowledge that privilege exists and that disparities based on of race are still prevalent in 2016.
It's a bit disappointing because brother, that's being on the wrong side of history. If this was 50 years ago, the same people saying "all lives matter" today would be the same people feverishly resisting integration and obstructing Dr. King and the Civil Rights movement.
There's still a lot of football to be played and the season is just kicking off. I'm holding onto hope that maybe you all wanted to avoid any protest because of the date.
There's still plenty of opportunities to make your voices heard. As I'm sure you're already aware of, there's a lot of people looking up to you.
Peace,
John from Lakewood