While the rest of the country has been embroiled in an ugly and often ignorant debate about resettling Syrian refugees, the reaction here in the Seattle area has been very different.
Last weekend more than a hundred people gathered at a rally to show their support for resettling refugees here (see my speech from the rally above). Our local politicians were among the first in the nation to make similar statements of welcome. And here at the Seattle Globalist we've been hearing from a lot of readers like you asking what you can do to help Syrian refugees during this time of crisis.
The way you've opened up your hearts and homes shows the truly amazing spirit of our city. But when it comes to the specifics of how to help, the answers are a little complicated.
Here's a quick guide on how to help Syrian refugees right now:
Advocate for higher refugee quotas
When citizens lobby their elected officials, they can have real influence on policy, says Bob Johnson of the International Rescue Committee (IRC), an organization specializing in refugee resettlement. Right now, the U.S. is capped at taking in a total of 10,000 Syrian refugees a year.
You can write letters to your federal representatives asking for higher quotas for refugee acceptance, and show your support through direct, grassroots action. Americans for Refugees & Immigrants and other groups have been hosting rallies like the one last weekend to show support for allowing more refugees in the U.S.
"Given that there aren't really many Syrians in the pipeline that are approved and travel ready, I doubt that we would see an increase here in the near future," Johnson says. But the sooner we can get Congress to increase the cap, the sooner we can start bringing in more of the millions of Syrians needing refuge.
Donate to direct aid organizations
Tons of NGOs are on the ground in Europe and the Middle East distributing necessities to Syrians in need. Medical Teams International packages hygiene and baby care kits. They have distribution centers where kits are assembled, and are in need of volunteers, donations, supplied, and notes of encouragement to send to refugees in need.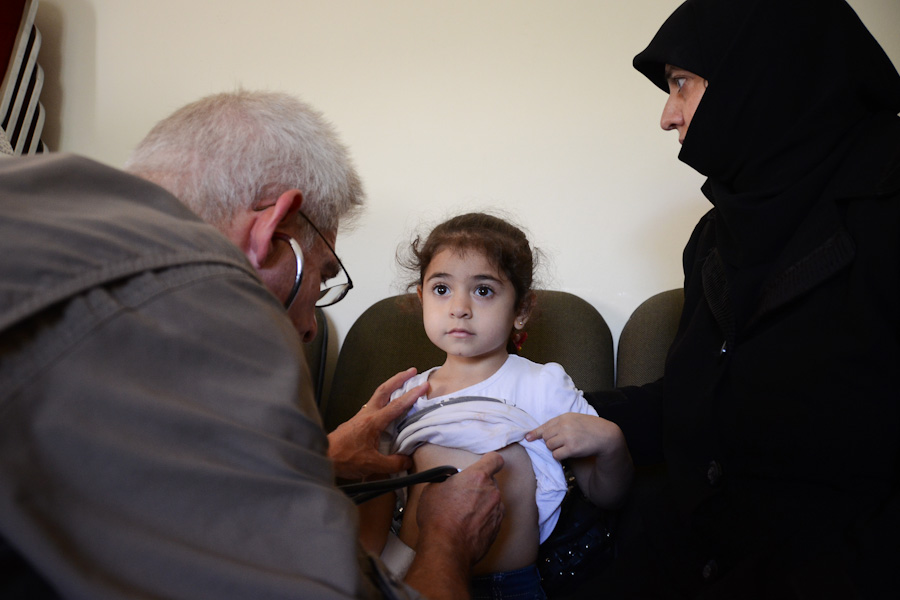 Volunteer with Syrian refugee orgs outside the US
A few organizations actually send volunteers abroad to help Syrian refugees on the peripheries of the conflict. Open Homes, Open Hearts US is seeking volunteers "to make and serve food, change diapers and clothing for children, disperse donated supplies and at times, even pull families out of the water." You can also donate money to fund volunteers who are going.
Help other refugees who are already here
While there haven't been very many Syrian refugees resettled in Washington yet, there are plenty of refugees in our region from other conflict zones, and more are arriving every day.
There's no regular process to host refugee families in your home long term. But they do need help with things like learning English, finding a job, getting their apartment set up, and adapting to life in the Northwest. World Relief, IRC and Lutheran Community Services are the three main refugee resettlement agencies in Washington, and they all have volunteer programs that allow you to help.
Lutheran Community Services also has a program placing refugees who are unaccompanied minors with foster parents. Details here.
Other local organizations that are helping:
Did I leave anything out? Add your own recommendations for great aid organizations, initiatives, rallies and actions in the comments.