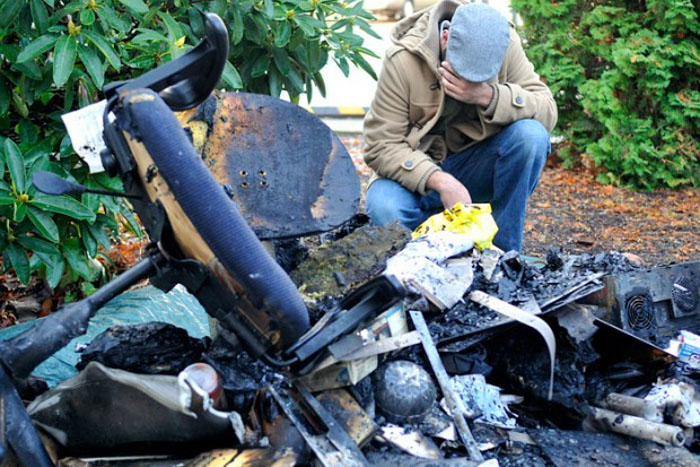 A self-described Christian warrior accused of firebombing an Oregon mosque was convicted on a hate crime charge last week and is expected to be sentenced to probation. 
Cody Seth Crawford, 29, pleaded "no contest" to a felony charge of damaging religious property at U.S. District Court in Eugene Nov. 3. The plea allows the court to find Crawford guilty, while he maintains his innocence.
Crawford told the Corvallis Gazette-Times through an email that he wanted to take the "safe bet."
Crawford was accused of throwing a soda bottle containing gasoline and mineral oil into a window at the Salman Alfarisi Islamic Center in Corvallis, setting the office area inside aflame in 2010. He was arrested eight months later.
The attack occurred two days after Mohamed Osman Mohamud, a Somali-American who lived in Corvallis, was arrested after he allegedly planted a fake bomb at a Christmas tree-lighting ceremony in Portland. Mohamud's lawyers said he was led to the plot by FBI undercover agents who provided him with money and materials. However, a federal jury found him guilty and he was sentenced to 30 years in federal prison last year.
Crawford posted on Facebook after Mohamud's arrest: "He went to the mosque right in front of my house here in corvali, i even remember when he walked by my house one time, with two guys that looked like cops, i see them there every week." 
The Oregonian reported in 2011 that Crawford had several previous unrelated encounters with police and mental health authorities, calling himself a "Christian warrior" and ranting about Muslims.
In court documents, Crawford's attorneys say he was diagnosed with Asperger's Disorder and bipolar disorder. But the court found that "there is no claim that Mr. Crawford's mental state was impaired at the time the fire occurred or the investigation began."
The prosecutor in the case, assistant U.S. Attorney William "Bud" Fitzgerald, said last week he would recommend probation for Crawford, according to news reports.
Yosof Wanly, a local Islamic scholar who attends the mosque, told the Globalist the Islamic center would not seek further punishment for Crawford, or look for restitution. The mosque was repaired through insurance and community volunteers.
"We pardoned him," Wanly said. "We didn't want to press charges towards him because we believe God says in the Quran 'pardoning and patience is of highest level in the sense of conduct and dealing with difficult circumstances.'"
However, Ibrahim Hooper, a national spokesman for the Council on American-Islamic Relations (CAIR) questioned Crawford's light sentence after a firebomb that caused damage — especially coming after Mohamud's 30-year sentence for an act that did no damage and did not endanger anyone.
"It's a disturbing pattern," Hooper said. "We believe firmly if the faith and ethnicity of the perpetrator were different and the circumstances were the same, the outcome of the case would've been different."
Fitzgerald, the prosecutor, declined to comment to the Globalist on the case.