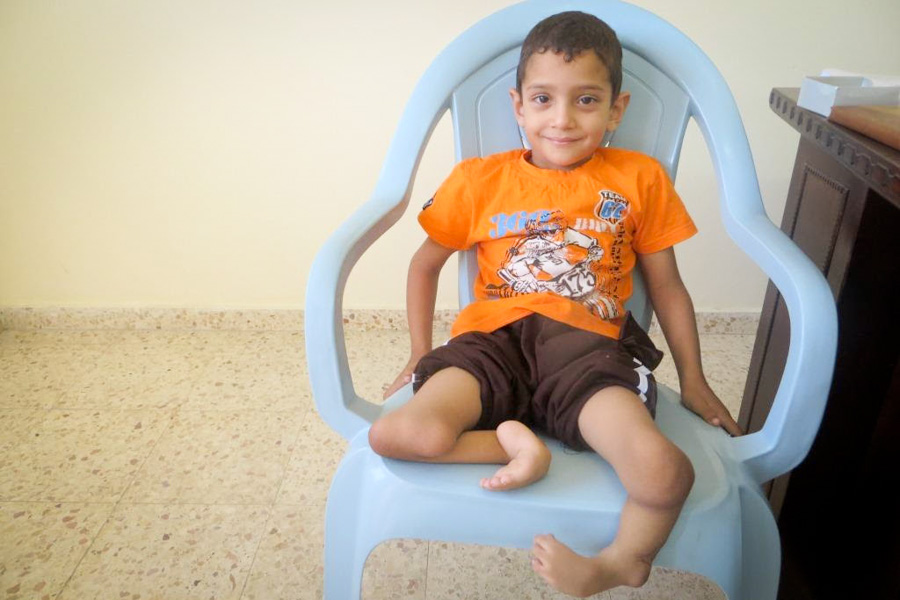 After a year of roadblocks, a Palestinian boy will be able to walk for the first time in his life, thanks to the help of local humanitarians.
Seven-year-old Weseem Shoulub was in Washington last week to be treated for bilateral tibial hemimelia, a congenital deformity in both legs that prevented him from learning how to walk.
Surprisingly, the treatment itself, which requires amputation of both legs and training to use prosthetics, wasn't the biggest challenge. It was getting him out of Gaza and into the United States.
The Palestine Children's Relief Fund, a humanitarian organization that helps children receive medical care, had been working to arrange the travel for the last year.
According to Fatimah Awad, President of PCRF's Washington state chapter, waiting seven months for a U.S. visa (a process many international travelers are all too familiar with) wasn't the only issue. Shoulub and his mother were turned away twice by the Israeli border guards at Erez — the crossing at the north end of the Gaza Strip — and forced to make the day-long journey back to their home in Khan Younis.
On the final attempt, one of PCRF's social work representatives managed to convince border security to let both Shoulub and his mother through so they could continue their journey by road to the airport in Amman, Jordan, and on to the Pacific Northwest.
Entry and exit points on the borders of Palestinian and Israeli territories are mostly Israeli-controlled, as are the many checkpoints within Palestinian territory. They can be the site of hours of delay and disappointment for Palestinian travelers.
The journey was long and exhausting, said Weseem's mother Saedeya Shoulub. I caught up with them at a birthday celebration held for Weseem at the Bravern high rise in Bellevue on Saturday.
Just 10 days after having both legs amputated, he was riding around his wheelchair laughing and playing at the celebration. His positive attitude and playful nature belied the struggle he had undergone to get to the U.S. and the pain of recovering from a life-altering procedure.
"There's no knowing if the Palestinian children will get through the border, or if they'll risk being send back, even if for seeking medical care," said Awad.
Even basic medical access within Gaza is limited, Awad explained, and there is no treatment for conditions like Shoulub's available anywhere in the Palestinian territories. Shoulub was sponsored by Dr. Paul Caskey at Spokane Shriners Hospital to receive his surgery and prosthetics, after PCRF sent the doctor an inquiry.
PCRF has helped Palestinian children to get medical treatment in the U.S., the U.K., Spain, the U.A.E. and Turkey, among other countries. Israel is often the closest place that has proper care for the Palestinian and other Middle Eastern children that PCRF sponsors, but is typically inaccessible to them.
Awad said that since founding in 1990, PCRF's numerous attempts to get children to Israel for treatment had all failed due to roadblocks all the way, from the early stages of paperwork to physically standing at the gates of a border crossing.
Even when over 10,000 Palestinians were injured from the attacks on the Gaza Strip last summer, it continues to be difficult for anyone to leave to find quality medical care, said Amani Azzaidani, a founding member of the University of Washington's PCRF chapter.
In Shoulub's case, PCRF decided it was not worth trying to get him to Israel, especially since hospitals in the U.S. like Shriners take in the sponsored children regularly, Awad explained.
Shoulub's congenital deformity is relatively common for children born in places like Gaza and Iraq, said Awad. Though bilateral tibial hemimelia only occurs in one in a million births worldwide, it appears more frequently in the war-torn parts of the Middle East that PCRF has worked in. The causes have not been identified conclusively, but there may be a link to neonatal exposure to chemicals.
Treatment isn't readily available for many other medical issues facing children in Gaza, either.
Palestinian children with cancer have the option of going to PCRF's The Huda Al Masri Pediatric Cancer Department at Beit Jala Hospital in the West Bank. According to a PCRF fact sheet, the department has served over 200 children since opening in 2013.
Awad said that PCRF is currently awaiting clearance from Israel to build and open a cancer treatment branch in Gaza to make treatment more accessible for locals by avoid checkpoints and traveling the long distance for care.
But opening the facility could take some time, especially with the increasing tension and violence in the region. According to Al Jazeera Plus, at least 41 Palestinians and 7 Israelis have been killed in individual attacks this month.
This is the climate that Shoulub and his mother may return to after completing medical treatment in December. Weseem, his parents and four siblings have been living in a nylon tent in a refugee settlement near Khan Younis since their home was destroyed in the attacks on the Gaza Strip in 2014.