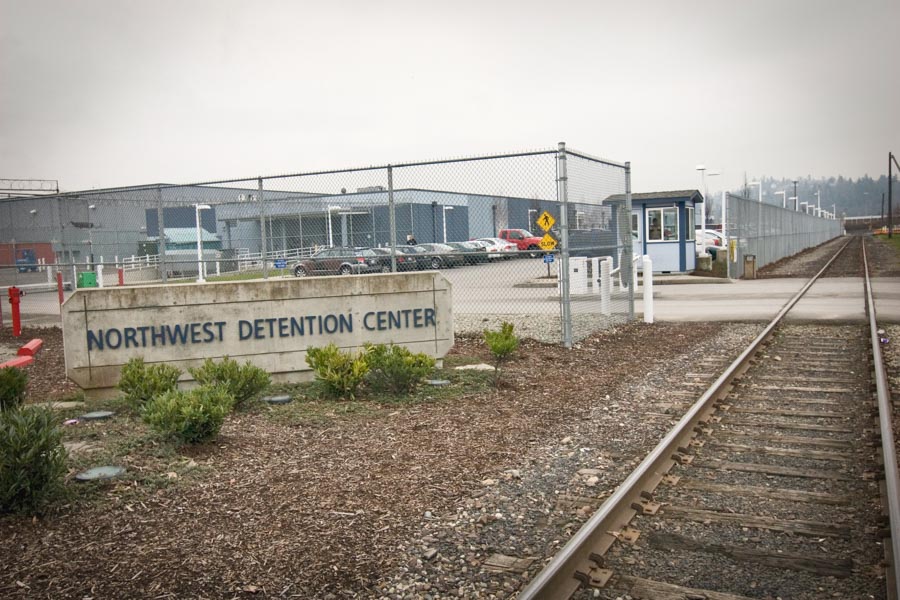 Imagine you're in political peril in your country and you find your way to the U.S. border, where you declare yourself an asylum seeker. Then, after spending months in a detention center in a distant city, you are released on bond until your case is settled.
Suddenly you're standing on an industrial street corner holding a plastic garbage bag full of your few possessions. You have no phone, limited English and your nearest contact, friend or family member is halfway across the country.
What would you do?
If you're one of the roughly 30 people that find themselves in this situation outside of the Northwest Detention Center (an immigration detention center on the Tacoma tide flats) every week, now you can step into a trailer full of snacks, toiletries and helpful people waiting to welcome you.
"We are right here, right now, to help them with what they need," says Peggy Herman a member of AID NW, the immigrant advocacy group that opened the AID NW Welcome Center in a trailer at the Detention Center's entrance last month.
The needs of recently released detainees vary — from just using a cell phone, to help finding transportation (locally or nationally), to translation services, to a new set of clothes or help finding a safe place to stay the night while they secure longer-term housing.
AID NW has been trying to provide what they call "safe release service," since the Northwest Detention Center was opened in 2004. Volunteers would often sit in their cars with umbrellas and coats for new releases. But Herman says it was challenging to coordinate other services without a more permanent presence.
And the two men who are in the trailer getting help today exemplify how complex and unique people's situations can be upon release. Both are asylum seekers (Herman says that the majority of the people they serve at the Welcome Center are), one from India and the other from Ecuador.
Mr. Singh (he's hesitant to share his full name for safety reasons), from India, is trying to make his way to a friend in Palm Springs who will house him while his case makes it's way through the immigration court system. He's stopping at a local Sikh temple first to pray and rest.
Herman, who is one of many people who staff the center every weekday from 3-7 p.m., calls a translation service to help them communicate while another volunteer readies to drive Singh to the bus station.
"I came because of my Dad," says Adriana Ibarra, 16, who is using her Spanish language skills to help the recently released Ecuadorian asylum seeker organize a plane ticket to reach family members in New Jersey, "…They do announcements at our church and they did an announcement about this truck being here and how when [detainees] get out they don't have anywhere to go and are just wandering around."
She also helped the young man — who was dressed for winter weather in the August heat — get a new pair of clothes from a pile in the back.
This blond wood and floral printed trailer, stocked with cookie trays and chattering volunteers, is in stark contrast with the industrial landscape of concertina wire, warehouses and train tracks it sits in. It's a warm welcome in a world that must seem dangerous and confusing to these two men hunched in their seats studying their hands.
"What we're trying to say [to detainees] is 'let's make you feel welcome, let's get you into this community so you can travel safely and so you won't be any more vulnerable than you already are," says Herman, bustling between drawers stocked with tiny bottles of shampoo and toothbrushes.
While the toiletries (and much needed backpacks) come via community donation, Herman says AID NW "borrowed against payroll and rent" to buy the $25,000 trailer itself. It's money they hope to recover through an online campaign linked from their website aidnw.org
She says the "leap of faith" was worth it.
"Think of how rewarding and spectacular this is going to be when we're doing it on dark and rainy nights," says Herman smiling wide.
That warm welcome will be there, in a thirty-six-foot trailer full of kind strangers.