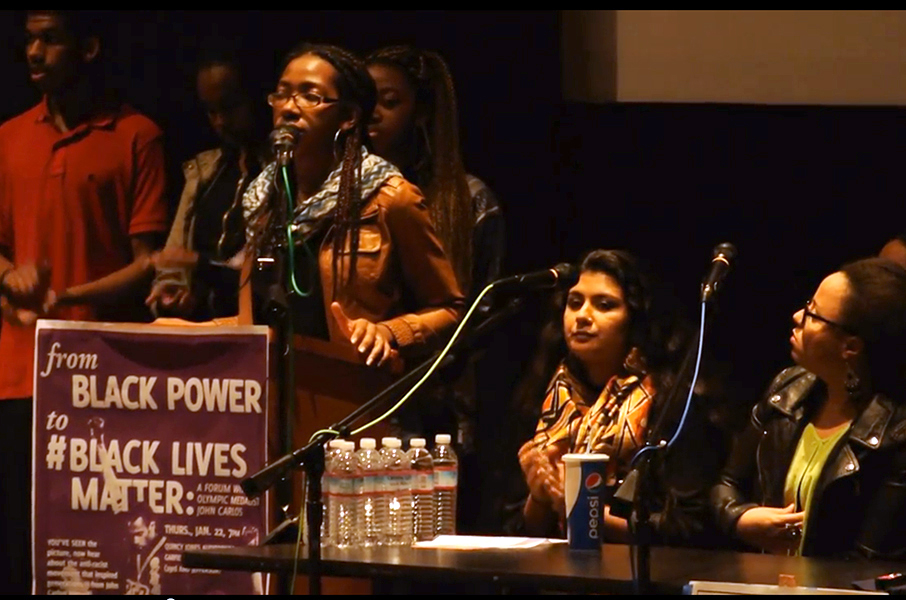 In April 1967, civil rights activist Stokely Carmicheal spoke to a crowd of 6,500 people at Seattle's Garfield High School about Black Power, which he defined as the "coming together of black people to fight for their liberation by any means necessary." In the audience, were students Elmer and Aaron Dixon, who would later on establish the Black Student Union (BSU) at their high school with the help of Larry Gossett of the University of Washington BSU.
A year later, Elmer Dixon was pulled from his geometry class and arrested for participating at a sit-in protest at Franklin High School. Two days later he heard about the assassination of Dr. Martin Luther King, Jr. while sitting in a dark county jail cell, along with his brother and Gossett. The experience motivated Elmer to establish the Seattle chapter of the Black Panther Party while still a senior at Garfield High School.
Today, the BSU at Garfield High School continues this legacy of activism, but with a renewed sense of purpose in light of national events of their generation. The murders of Trayvon Martin, Michael Brown and Eric Garner, as well as the rulings on the cases that sided with their perpetrators, raised serious questions about police brutality and racial profiling.
Garfield junior Issa George, the BSU's vice president has been participating in the group for a year. She is part of the group that has taken a more visible activist stance in recent years. They are, after all, the generation of the nationally renowned standardized MAP test boycotts and the young agitators leading the #BlackLivesMatter movement.
"We're basically trying to convince the entire country the value of our lives,'" she said. "I wish we didn't have to be activists at such a young age but that's kind of what we've turned into. Nevertheless, I'm glad we do take the initiative."
Issa, VP of Black Student Union at Garfield high, says students "don't want to be the next Mike Brown." pic.twitter.com/nKlvshynN7

— Natalie Swaby (@NSwabyKing5) October 23, 2014
BSU membership has increased to a steady flow of around 15 to 20 people at weekly meetings, and many more students and supporters turn out for demonstrations the club has led against Darren Wilson's ruling in Ferguson, Mo. and on the unofficial International Day Against Police Brutality.
The club also hosts social and educational events. Next week, the BSU is leading a forum in conjunction with the school's Earth Corps club to discuss environmentalism and how it intersects with race and class.
Unlike the Dixon brothers and the generations following, current Garfield African-American students have a new set of distinct challenges.
"We aren't living in a post-racial society like I feel many Seattleites wishfully think that we are," said George. "Being a minority student in a predominately white city and country, it's very hard for us to find a sense of community."
As a BSU co-adviser and bilingual instructional assistant working with students at Garfield, Kristina Clark agrees.
"Something really unique that this current generation has to deal with is having to do the constant work of even naming racism and having to explain that it exists," she said.
Racism in some ways has intensified through channels like social media, Clark added.
"There's the actual literal distancing and no potential repercussion or accountability, and so people will say whatever comes on their mind," she continued. "You can hop on comment threads from The Seattle Times and read some pretty heinous stuff and discover people in the local area with deeply-rooted prejudice and racism."
Garfield history teacher and author Jesse Hagopian is another co-adviser for the BSU. He said the level of commitment the students exhibit in BSU is beyond anything he's seen in his career as a teacher and activist.
On Dec. 10, Garfield's BSU received the Seattle Human Rights Commission's Rising Leaders Award.
"When you see the youth radicalize, when you see the youth taking an initiative and taking action, that's when society really starts to change," said Hagopian. "It really begins to remind me of things I've only read about or heard my parents talk about from the Civil Rights Movement — when young people took the movement to a whole different level."
According to Clark, many of the students in BSU are first-generation African immigrants or their parents are. She said their participation helps provide a broader context to the discussion of equality.
"What a lot of African immigrant youth experience is very similar to what their black American counterparts experience," said Clark. "Anti-blackness is pervasive."
According to a 2012-2013 Seattle Public Schools report, 31 percent of students at Garfield are black, a slight rise from 2009 reports showing the student body to be 28 percent black. And previous generations of Garfield's black students didn't reap the benefits of Seattle Public Schools' failed attempts at desegregation.  Students today are now facing the aftermath of this: gentrification in the Central District. Clark said Garfield students are really starting to feel the effects of this, and according to Hagopian, segregation in the U.S. might actually be worse.
"Studies have shown nationally that the schools are back at the segregation that we were at in 1968," he said.
Hagopian fears that House Bill 2048, currently being weighed in the state legislature's education committee, could split the Seattle Public School District into two entities to worsen racial segregation and funding inequity between north and south Seattle.
Hagopian is also fighting his own battle against the city of Seattle. After delivering a speech at a Martin Luther King Day march and rally, a Seattle police officer pepper sprayed him. He is now filing a $500,000 lawsuit against the city over the incident.
"With things like Ferguson, black students have to worry about a lot of different things on top of being a student, on top of living this regular teenage life," said George. "We have to worry about discrimination and the way it's going to affect us institutionally. BSU at least for me helps me remember sometimes that I'm not the only person going through this."