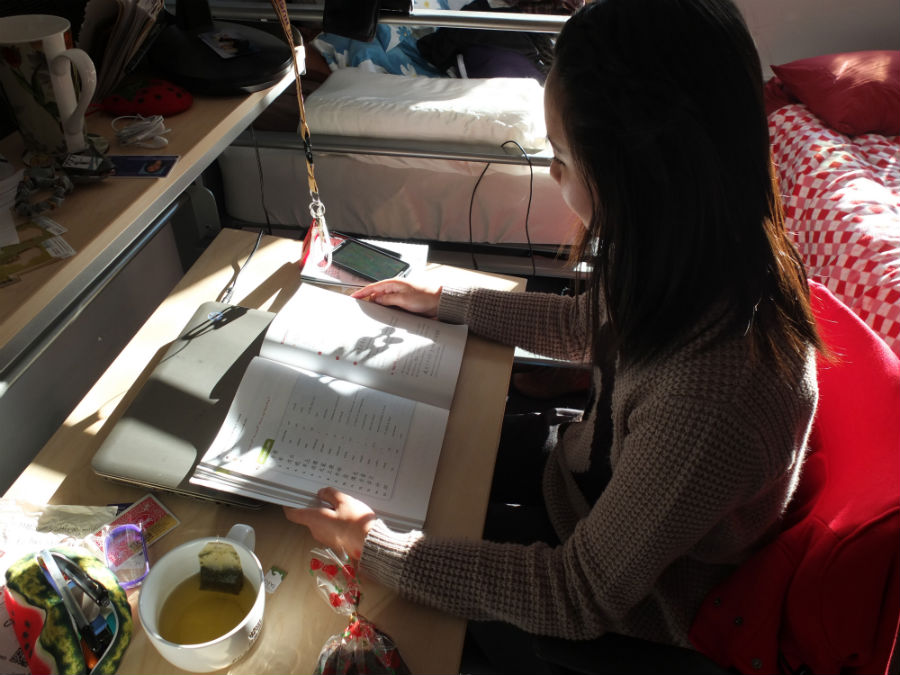 A few months ago, before a crowd at Tsinghua University in Beijing, Facebook CEO Mark Zuckerberg spoke Mandarin out of nowhere, and headlines around the world hinted that he put the "rest of us to shame" by speaking fluent Chinese.
Well, did he really?
Don't get me wrong, I'm no hater. Zuckerberg deserves praise for being able to conduct an entire interview in a language he picked up in his late 20s. That still shouldn't overshadow the language abilities of many other Americans.
According to the American Community Survey, 22 percent of children aged 5 to 19 speak a language other than English at home. But that doesn't equal literacy. For instance, I can speak Cantonese effortlessly and make my way around a tabloid magazine and a menu. But that's as far as my fluency goes, even though I grew up in Hong Kong.
And by no means am I alone. This seems to be the case for many Chinese Americans. The two most spoken dialects in China are Cantonese and Putonghua, also known as Mandarin. The nuances of the languages are completely different. Cantonese has eight tones, while Putonghua has four. They also use different characters in the written language. Cantonese utilizes traditional Chinese characters, while Putonghua utilizes simplified.
While most Chinese immigrants come from places that speak Cantonese, Putonghua is more widely taught. Fluency in one dialect does not automatically transfer to another, which complicates being literate and fluent in Chinese for many Chinese Americans.
In my case, my family returned to Hong Kong from Montana when my grandpa became ill. We thought it would be a temporary move.
I enrolled in an international school, where three out of 20 students spoke Cantonese. The only kind of formal Chinese education I received was optional after-school Putonghua lessons.
By the time I transferred out of the international school system in favor of a local, all-girls Catholic high school, there was no way I would be able to catch up to the local Chinese curriculum. I took French instead.
As much as it pains me to admit this, I'm Chinese illiterate.
In a nutshell, I'm an "ABC" (American-born Chinese). There are worse terms for people who don't speak the language. Some people use the term "jook-sing," translated literally as "hollow bamboo."
Sometimes, terms like these motivate Chinese Americans to pick up the language later in life, especially in college.
"I've never been called a 'jook-sing' by my family members or friends, but I've heard words like these thrown around a lot by others," said Jessica Lin, a sophomore in the University of Washington Foster School of Business.
"Cantonese is the language I use to speak with my family, and they have always been supportive. I've never felt pressure to learn the language, but I always wanted to take lessons."
Lin began taking CHIN 101. The Chinese Program, Department of Asian Languages and Literature at UW offers two separate tracks: heritage for students who speak the language at home but might not be able to read or write, and non-heritage for complete beginners.
Even though Lin speaks Cantonese at home with her parents, grandparents and brother, she was placed in the non-heritage Chinese class. She chalks this up to not being able to speak Putonghua and not being able to write or read in Simplified Chinese characters.
"I don't feel that I'm learning Putonghua from scratch as my background in Cantonese helps me," Lin said.
Still, Cantonese and Putonghua have slightly different structures, and words that sound similar can be misleading.
"There's a girl in my class who speaks Cantonese too," Lin said. "If we don't understand something, like a term, we try to translate it into Cantonese to help each other out".
Nyan-Ping Bi, a Chinese instructor at the UW, said many Chinese American students get formal training in the the language before college.
"They take classes at weekend schools, churches, K-12 levels in school etc. And of course, many Chinese Americans do speak the language at home without taking formal lessons," Bi said.
That was the case for UW sophomores Julie Lu and Ray Hui. They speak Cantonese at their homes, and have had less than two years of informal Chinese lessons. Both Lu and Hui also spent the summer in Hong Kong as part of a study abroad program.
"I don't plan to take Chinese at the UW, but that doesn't mean I don't actively seek out opportunities to speak the language," Hui said.
"I didn't have any problems in Hong Kong," said Lu. "I understand everything that's said in a Hong Kong TV drama, and I can have a full on conversation with someone who speaks Cantonese".
Hui also can hold a conversation.
"I have an accent though, and can't pronounce everything right," Hui said. "It's easy to see that I'm not from Hong Kong when I'm there."
While Hui may brush off mistakes with ease, it's not so easy for me. It sounds terribly silly now, but for a while I didn't like speaking in Cantonese because I was too worried that I would stumble on my words.
Picking up Chinese was difficult as I only started speaking it seriously when I was 10, with a lot of trial and error. I learned how to read Chinese by paying attention to the subtitles on TV. Recognizing characters got a lot easier with time.
I'm a junior with two majors, and I doubt I will have time to pick up Chinese lessons at UW. I'm always going to be striving to strengthen my grasp of the language, but I'm happy where I am right now.
Ultimately, I hope to read a newspaper with ease in a few years, but until then, I won't be giving up my ultimate guilty pleasure – reading Chinese tabloid magazines.