Click play to listen to the story produced by the Seattle Globalist for KUOW Public Radio.
Cans and bottles can be recycled and extra food can be repurposed through food banks, but what about medications? Almost everyone has a corner of the bathroom cabinet designated for pharmaceuticals that are unused, only partially used or about to expire. Can they be recycled as well?
Seattle-based humanitarian activist Rita Zawaideh would say "Yes." She says she could take many of those meds and get them to needy people.
Zawaideh, who grew up Syria, organizes regular medical missions to Syrian refugee camps in Jordan (seven in the past year) through her non-profit Salaam Cultural Museum. These missions bring medical professionals to camps to treat refugees suffering everything from rashes and cavities to post traumatic stress syndrome and heart disease.
"We have regular OBGYN's, we have pediatricians go with us, we've had heart specialists who have gone, surgical people that go in…" says Zawaideh, ticking off the varied skills of the people on her missions.
Read more about Seattleites helping Syrian refugees in On the Borders of War »
Zawaideh's missions also bring much-needed medicine to the camps where hundreds of thousands of people currently live, with more arriving each month. That often means pre-natal vitamins and aspirin, but also prescription drugs. And while she never deals in controlled substances like painkillers and opiates she does collect medicines to treat diabetes, scabies, heart disease and even hemophilia.
Zawaideh says she sometimes gets those pharmaceuticals via organizations like California-based AmeriCares, which legally collects medications within six months of expiration from pharmaceutical houses and redistributes them — via doctors — to missions like Zawaideh's.
But those collaborations don't explain the boxes of drugs littering the floor of her office turned medical mission headquarters. Most of those come to her far more informally — via pharmacists and doctors that have access to supplies and from individuals who have excess medication.
"Your doctors are giving you medication. You have not liked that medication. It didn't agree with you, but you had to buy a 30-day supply, but you can't turn it in and get a refund on it," explains Zawaideh, describing the spiel she gives rotary clubs and other community groups, "I [say], 'I will take it.' It's not legal. You're not supposed to do that, but as long as they're not narcotics, I take those pills…"
Zawaideh calls it "not legal," but it's maybe best described as a legal gray area. It is against the law to collect and distribute prescription drugs outside the existing medical system in the United States, but those laws don't necessarily apply to other countries, which have varied laws and regulations regarding the practice.
This practice is sometimes called drug recycling or repurposing or redistribution, and it's common in the global aid and development world. At first glance it seems like a no-brainer. It is estimated that billions of dollars worth of pharmaceuticals are trashed each year. If expensive and effective meds are going to waste in U.S. why shouldn't they be repurposed for patients living in poor countries?
But some medical professionals, ethicists and regulators say that this type of recycling can be counterproductive and even dangerous.
When practiced by citizens it is in direct opposition to the rising popularity of drug-take-back programs that work to ensure citizens have places to properly dispose of unused medications.
And while a bill passed by the Washington state legislature in 2013 allows unused prescription medication to be donated back to pharmacies for re-prescription to low-income patients in the state, it doesn't allow for average citizens to engage in the practice and it doesn't say anything about taking these medications abroad.
"You wouldn't give somebody old food… Drugs are exactly the same."
And that's where broader ethical concerns come into play, says Dan Irvine of the International Health and Nutrition department at World Vision, a Christian humanitarian aid organization.
"There's expertise required," says Irvine, who says he sees variations of international drug recycling practiced pretty regularly, especially among medium sized non-profit organizations in the global health field. "It's not for no reason that we qualify pharmacists to control medicines in developed countries for our own utilization."
Irvine says it's easy for such recycled medications to expire or be improperly stored and become less potent and that labels in unknown languages could lead to misadministration. He also worries that such drug recycling can contribute to the bustling global trade in counterfeit drugs, as long-expired drugs can be easily passed off as viable to desperate and vulnerable sick people in developing countries.
"You wouldn't give somebody old food and you wouldn't give somebody food that you can't absolutely guarantee is free of salmonella and bovine fever. These are all issues of food control," explains Irvine. "Drugs are exactly the same."
But if the person was starving to death before your eyes you might just take that risk, says one doctor at a Seattle-area hospital. She believes medications and supplies are often scrapped earlier than necessary and shouldn't go to waste. She won't publicize her name or the place where she works for fear of losing her job but says that Zawaideh's descriptions of conditions in the refugee camps moved her to act.
At first she tried above-board methods: approaching the hospital pharmacist and drug manufacturers for donations. In both cases the cost, availability or timeline was prohibitive. She was going to give up, and then she heard Zawaideh describing surgeries in the camps performed without anesthetics.
"I said, 'What? You don't have what? You don't have anesthetics? Well we ditch those after 28 days. I wonder what happens to those?'"
The anesthetics in question weren't expired; it was just hospital policy to take them out of rotation for fear of loss of what she calls "product integrity." She found those unused, or partially used, anesthetics in a bin in the basement awaiting incineration.
"[It's] immoral and unethical to ignore this level of suffering."
"So I started digging in this bin. Wow, there's lidocaine, marcaine, bupivacaine, all of these things in there. There are three tubes of silvasorb in here," she says, describing a variety of anesthetics and wound treatments, some of them as expensive as $100 a tube.
She went to her supervisor to ask for permission to donate the unused medications to Zawaideh's missions and was told what many medical professionals that engage in this form of drug recycling are told: It's against policy, but we'll look the other way.
"My other colleagues know it," she explains, "but it's one of these things that's sort of 'keep it quiet.'"
Many health professionals engaging in this practice are doing so outside of the rules and regulations of the institutions they work for — acting in a gray space that leaves them vulnerable.
"You just work with different doctors that you know shouldn't be doing this, shouldn't be, but they know that it's needed," says Zawaideh, describing a local network of people working in an underground way to connect excess medications and supplies with a variety of non-profits working abroad. "Everybody knows where it's going. We all trust each other."
Public health expert Dr. Wendy Johnson says many of her doctor friends, especially those who have volunteered abroad, are involved in some sort of medical recycling or redistribution. She worries that this type of aid can create dependence and let governments off the hook for caring for their own populations.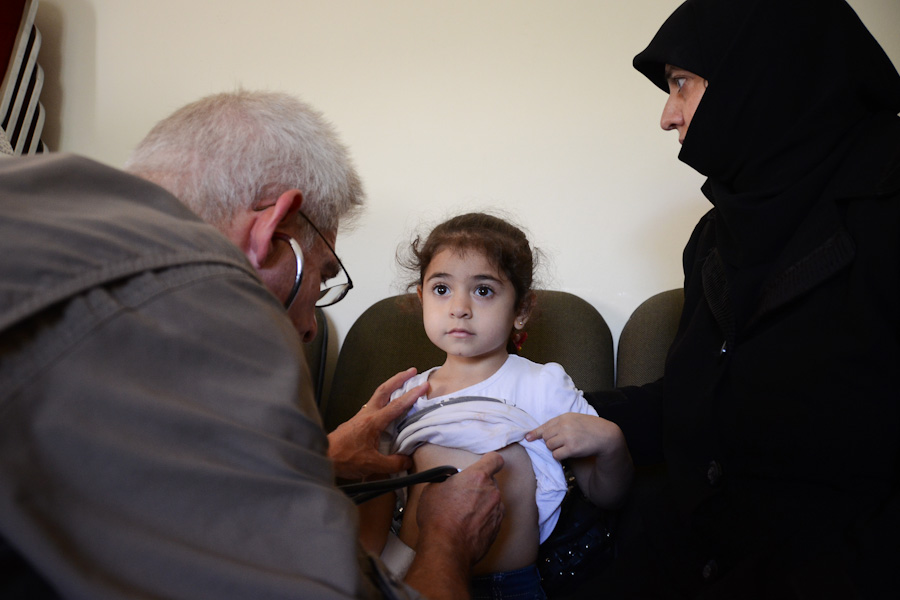 "The more you set up these parallel systems the more you really undermine the government system," says Johnson, who has worked in Mozambique, Haiti and many other parts of the developing world. She says she sees the longer-term impacts of short-term aid exemplified in the lack of existing medical infrastructure to fight Ebola in West Africa despite decades of western aid in the region.
She agrees that emergency situations — like the refugee camps in Jordan — may sometimes justify recycling. But she worries that the practice can take time and energy away from building sustainable medical systems.
Whether or not you agree with drug recycling, it's existence highlights excess and waste in the American health-care system and intense need in other parts of the world.
And if you were face to face with that intense need there'd be no question what to do, says Neil McFarland, a Seattle area doctor who went on one of Zawaideh's medical missions last year.
"People [were] living in tents in cruddy conditions. The UN is there and the UN is doing some things but there is no running water. While I was there there was an outbreak of Hepatitis A," he says.
McFarland says getting help to those that don't have it is the first priority. "The whole thing going on in the Middle East is the worst humanitarian crisis of our lifetime…[It's] immoral and unethical to ignore this level of suffering."
This story was produced through a partnership with The Seattle Globalist and KUOW's Program Venture Fund. The written version appeared in The Seattle Times.