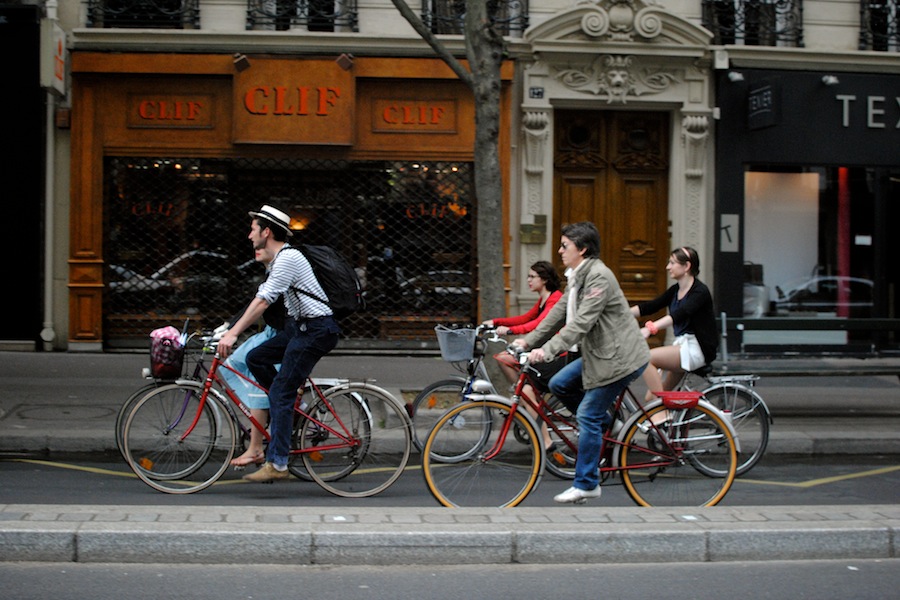 At first glance, it appears we've got little in common with France.
They ride bikes wearing stylish dresses and suits — we climb monster hills in spandex. They celebrate bread products — we count carbs. They drink dainty espressos — we drink coffee in pint glasses. Seattleites value niceties — Parisians pull off rudeness.
But there are still plenty of corners of our town to enjoy the joie de vivre without being too uppity — after all, this is Seattle.
The French approach leans more towards pleasure than practicality, a philosophy they apply especially well to grocery shopping. Shops specializing in one type of food, like poissonneries, fromageries and couscoussieres (fish markets, cheese markets, and couscous buffets, respectively) are common in France, making the country an amusement park of foodstuffs.
Though they don't share the same charming suffix, Seattle places like Bob's Quality Meats, Mutual Fish Company, MacPherson's Produce, and The Calf and The Kid offer a similar experience, at a variety of prices. Not to mention the countless immigrant-owned grocers and vendors who specialize in products not found elsewhere in the region.
Seattleites like Miranda Greenberg are clued in. After spending a semester abroad in Paris, she took a job at Café Campagne to continue immersing herself in the culture, amidst a French-speaking staff.
"In our American mindset, the French might seem smug, but I think that preservation of culture is something that we miss out on here," she says.
Last year, Seattle-based Costco launched its first stores in France, testing the American 'bigger is better' approach on the food traditions of Europe.
Restaurateur Wylie Bush also took a nod from the French with the success of his well-loved Capitol Hill café, (disclosure: I moonlight there making crêpes myself). Nearly 17 years ago in The Loveless Building, a historic artists' residence in north Capitol Hill, Bush racked his brain as to what he could do with the tiny space. He recalled a trip to France, where crowded crêpe stands lined the streets, no bigger than the size of an espresso machine. He designed the bar to sit high, in hopes that customers might stand and drink espresso like the coffee houses in France (sadly, most people miss the reference and sit down to an awkwardly high ledge).
Unlike many of the larger and sleeker coffee shops Seattle is known for, Joe Bar (and its newest cousin Barjot — French slang for 'crazy' or 'gullible idiot') are small, homey, and unpretentious places to take the day in slowly, à la française.
With Bastille Day just a few days away, now is good time to indulge your French fantasies. The commemoration of the French Revolution is celebrated by Francophiles and actual French people across the globe on July 14th, and there's no reason we shouldn't partake, too.
For a city with seemingly no obvious French ties, Seattle actually has a surprisingly long history with La Fête Nationale.
On July 14th, 1970, 23-year old Shelly Bauman was struck by an antique cannon, mistakenly fired during an annual Bastille Day parade in Pioneer Square. After filing a lawsuit, she opened a bar under the Alaskan Way Viaduct with her settlement money, affectionately calling it 'Shelly's Leg'. The hip spot became Seattle's first official disco and openly gay bar.
Nowadays, established French restaurants and groups throughout the city host a series of events. This Saturday through Monday, expect plenty of wine, bread, cheese, burlesque, and pétanque.
July 12th, Madison Valley Bastille Bash
The family-friendly street fair, now in its third year, will take place in an expanded outdoor area off of Madison street. Tickets are free; food and drink tickets are available for purchase.
July 12th, Hub and Bespoke Picnic
Celebrating two great French pastimes — biking and picnicking — the trendy bicycle outfitters will host a (mostly flat) ride to South Lake Union, beginning from the Ballard storefront at 11:00 am. Riders are encouraged to wear their best french outfits, and bring picnic supplies.
July 12-14th, Bastille Café & Bar
The Ballard eatery, opened by owners who envisioned a neighborhood café culture in Seattle much like France's, hosts an annual three-day celebration for the holiday.
On Saturday, July 12th a first-come-first-serve pétanque-a-thon will take place in the open lot outside the Ballard Inn. Pétanque is French version of bocce ball, using hollow metal balls (boules) thrown as close as possible to a small wooden ball (cochonnet). Much like curling, it is a game of leisure played by 17 million people in France, and a small group of committed players in South Lake Union.
Monday's holiday will feature live jazz, a Django Reinhardt cover band, and burlesque.
July 14th, Café Campagne Bastille Day
If there is anywhere in Seattle that feels like Paris, it's the cobblestone streets and outdoor vendors of the Pike Place Market. Now in its 20th year, the French-style brasserie tucked in Post Alley hosts an annual street party on Bastille Day. From 4:00 pm onwards, the alley will be filled with live bands, street performers, wine stands, and cheap bites ($2.50-$12) like favorites like freshly shucked oysters and macarons.
July 14th, Le Pichet
Just up the street from Café Campagne, (where Pichet owner Jim Drohman used to be chef), Le Pichet offers a simple neighborhood restaurant like those popular in France, with extensive wine, cheese, and charcuterie menus. Festivities begin at 6:00 pm, featuring live music and food.
If Bastille Day's not your thing but you're looking to live like the French, there are still places to visit.
Café Presse
Though the Madison Street café and bar, sister-restaurant of Le Pichet, doesn't host an official Bastille Day celebration, Presse is always a welcoming place for anyone looking to eat fries with mayonnaise and mustard instead of ketchup. This year, they will host a viewing of the Tour De France, in addition to weekend soccer matches and a bi-weekly French conversation table. Most importantly, their daily Vin Express from 4-6, is the closest thing you'll find to a truly cheap bottle of French wine. You can drink in-house or take one home. Santé!