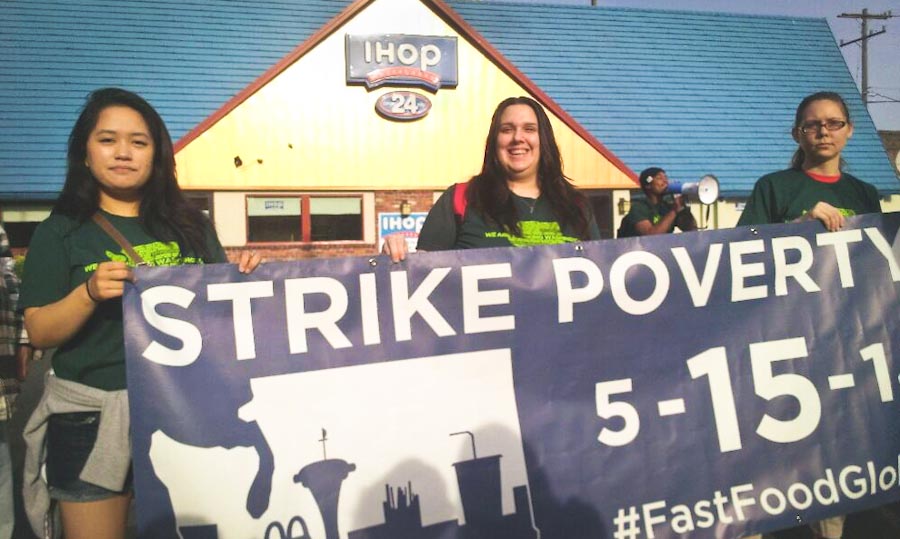 Seattle fast food workers and activist joined forces with a national and global movement today, going on strike to demand better pay.
The global day of protest against low wages was held in 33 countries around the globe and in more than 150 U.S. cities.
"We think it's fantastic. Workers internationally are being hit hardest by the global recession and being asked to pay for it," said 15now.org's Jess Spear. "Billion-dollar corporations like McDonald's are making record profits, but their workers are living in such poverty. That has to change."
According to a Reuters article published this morning, protestors are taking over a McDonald's at the lunch time rush in Belgium, holding flash mobs in the Philippines, and running a teach-in at the McDonald's headquarters in New Zealand. 
Here in Seattle, a group of activists along with Working Washington began their protest at 6:30 a.m. at Cal Anderson Park on Capitol Hill. They proceeded to the IHOP restaurant on Madison St. and joined some employees who walked off the job. Workers at local Dominos Pizza and McDonald's have reportedly left their jobs to join the protests as well.
The fast-food strike movement began as a single strike in New York City in 2012, and quickly gained momentum across the nation. Since then, over 100 cities in the U.S. have had protests with workers demanding the right to earn a living wage.
"This is just the beginning of an unprecedented international fast food worker movement," said Ron Oswald, general security of the International Union of Food Workers, as reported by AOL Jobs. "This highly profitable global industry better take note."
Fast food sales have taken a hit in the U.S. economy, but are booming internationally. According to a Merrill Lynch report, McDonald's international business is growing at four times the rate of its domestic operations. Many are pointing to this trend as a reason today's global protests will have a big impact, as international walkouts could create shudders across the entire industry.
Activists have been calling for the raise of minimum wage in Seattle to $15, ever since the passage of Proposition 1 did the same for SeaTac last year.
Seattle Mayor Ed Murray announced his plan to raise the minimum wage in Seattle to $15 by phasing it in over the next three to seven years. Murray released the plan a day after Congress failed to gain enough support to raise the federal minimum wage from $7.25 to $10.10 by 2016.
Striking workers in Seattle plan to stop at other fast food establishments on their way to Westlake Center where they will hold a rally at 4:00 p.m. You can follow their progress on twitter using #15forSeattle #FastFoodGlobal.
[ts_fab authorid="264″ tabs="bio"]
[ts_fab authorid="268″ tabs="bio"]