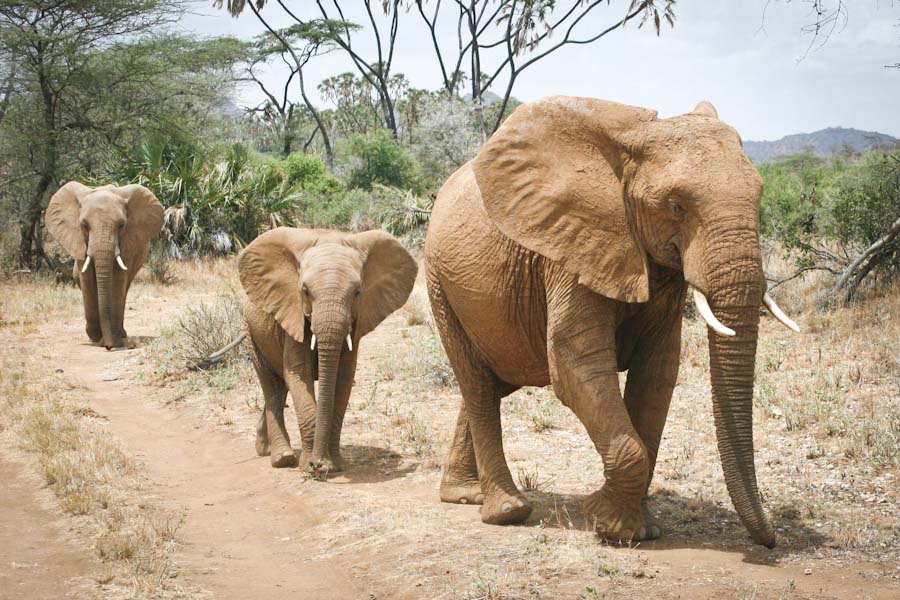 Every year as many as 50,000 elephants are killed in Africa for the illegal ivory trade. If this trend continues, African elephants could be extinct within a decade.
An increasing demand for ivory in emerging markets like China — where ivory is considered a sign of wealth — has led to the killing of more elephants than ever before.
The trading of poached ivory is a very lucrative crime that effectively carries little risk of prosecution for poachers. The ivory trade is the world's largest transnational organized crime, involving complex networks of suppliers, smugglers, corrupt officials and buyers that are very difficult for law enforcement agencies to unravel.
But now science is providing a novel approach to attack ivory poaching at the source.
Using forensic genetics and biostatistics, a team of researchers from the University of Washington including Dr. Sam Wasser, director of the UW Center for Conservation Biology (CCB), and doctoral student Lisa Brown, from UW Biostatistics, is tracking ivory poaching hotspots to help focus crime fighting efforts.
Wasser, who has worked in Africa since the 1970's, was first to establish a method to extract genetic material from elephant dung and ivory.
Each elephant has particular genetic markers — sort of like fingerprints — and elephants from different locations have different kinds of these "fingerprints."
Elephants poop (relatively) close to where they live. So using the genetic material extracted from the elephant poop and the location where each dung sample was collected, Wasser and his colleagues have created a reference map of the locations of elephants across the African continent.
Since 2004, the UW CCB is using these genetics-based methods to identify the location of origin of ivory seized by law enforcement and wildlife authorities like INTERPOL and the U.S. Fish and Wildlife Service, among others. When large volumes of ivory are seized (anything over half a ton), a representative portion of the sample is sent to the UW CCB for genetic fingerprinting.
By matching the genetic information from the dung samples collected from different locations around the African continent with the genetic information obtained from the seized ivory, the researchers can determine the approximate origin of the poached ivory.
"We use precision analysis — mathematical and computational models — to help assign a location to ivory samples of unknown origin," said Brown, who has been working on the project for four years. Using these models, Brown matches the genetic fingerprints of unknown samples to those of known samples to pinpoint where they came from — even though they don't have a dung sample for every location or every elephant population.
Because elephant populations have been decimated, there are very few remaining regions in Africa that have enough elephants to supply large amounts of ivory.
"We can approximate where the ivory came from to within 260 kilometers (160 miles) of its true origin, on average, and in some cases within 100 kilometers (62 miles)," said Wasser. Considering that most protected areas that still contain elephants are much further apart than that, the approximations are quite informative.
Knowing the approximate location of where these large ivory seizures came from then helps law enforcement identify where poaching is most concentrated, and act to prevent it.
"Our data provides actionable intelligence. It tells authorities where ivory poaching is happening, where authorities need to put pressure and focus their efforts," said Wasser.
Because their work centers on identifying the sources of poaching, it provides an effective and fast way to counter the criminals' adaptability.
"Poachers change trafficking routes constantly. However, they can't easily change where the ivory comes from," added Wasser.
Similar to what crime scene investigators do to solve crimes against humans, Wasser, Brown and their colleagues are using forensics to fight crimes against wildlife.
"The forensics technologies we use for our work were developed by basic scientists. Applied science stems from basic science. Scientists need to use their brain power to solve real world problems and this is an example of how," said Wasser.
"This project shows the wide applicability of statistical methods, usually associated with medical data, to address ecological problems," added Brown. "This is just as important."