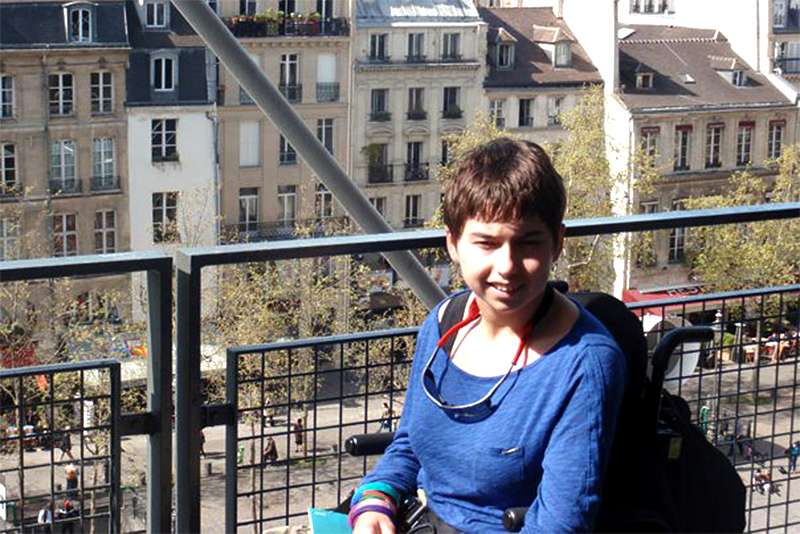 What do I pack? Where will I stay? Do I have to learn a foreign language?
These are just some of the questions that many students who study abroad are left to ponder when deciding to apply for this once-in-a-lifetime experience.
But what happens when you add questions like these:
Is the hotel accessible? How will I get support services in my host country? What happens to support services at home if I'm gone for an extended time? What happens if my wheelchair breaks down or I need to go to the doctor? Will I be allowed to fly alone? Will my host family accept me for who I am?
There are organizations out there that do care about students with disabilities and their travel experiences. One just has to know where to look.
Later this year I'll will be studying abroad in London and I'm the the first participant who uses a wheelchair to go on the program. So, I've been searching through lists and anecdotes, as well as my own previous experience, to come up with the following resources and tips.
These may not work for everyone, but the goal is to be as inclusive as possible.
Get the lay of the land
For most students with physical and sensory disabilities, the physical geography of the region can be as important as the experience itself. Some may choose a destination based on how easy it is to get around with a mobility device.
Other considerations include the amount of sensory stimuli, urban versus rural areas, availability of interpreters and sighted guide services, access to health care and equipment rental, and the physical distance between places to get from point A to point B.
Know a little bit about the culture in your host country and how it will approach your disability
Remember that your host country may have a different approach to disability. It may not be rude to stare or ask extremely personal questions. It may not be talked about at all in public.
How does the host country deal with invisible disabilities (cognitive, psychiatric, emotional, learning)? Are these recognized enough to get services for a student who needs them? How will you go about advocating for what you need?
Remember that the way someone approaches a disability may be offensive, but that person will not necessarily realize that. Take culture into consideration when dealing with these situations.
Be flexible
Being in a different country with an entirely different set of laws can be frustrating. Having complete independence in one situation that is tailored to your needs will not work in a completely different situation.
Being flexible may mean having to find new ways to do things for self-care or finding the resources you would normally use.
For example, if you need personal assistance but cannot find a company to hire someone, you may consider a local volunteer who is knowledgeable about the area and the services available there in exchange for live-in help instead of an hourly salary.
Where in one country something may be defined as accessible, it may not work for you. If the only way to proceed somewhere is up a flight of stairs, you may need to be flexible about being carried if you wish to attend.
This applies to many other resources as well. These are just examples.
Know your equipment
It is very important to know the exact specifications of all specialized equipment you will be using. Again, most countries' accessibility standards do not conform to ADA.
Knowing the exact height, weight, length, width and folding specifications of a wheelchair, walker or scooter may be the deciding factor in where you choose to visit or stay. Many older buildings are extremely narrow, so keep that in mind.
Be very open with your school's disability services office and any other programs that may support you outside of school.
Your school's disability resources and study abroad office can be your best friend. Even if their people have little experience in traveling abroad with particular accommodations, an adviser may be able to connect you to someone who can help.
It is also important that if you receive academic accommodations in school and will be attending a school-sponsored program, you should work with these people to make sure your accommodations can be provided and are legal in the host country.
For example, if you need an ASL interpreter during lecture, most likely the interpretation will be provided in the language of the host country if it is other than English. Some working around may need to be done.
Also, if you receive services or benefits from an agency outside of school, be honest and upfront about what you plan to do and ask about how those necessary supports can still be in place.
Check if your prescriptions and any health insurance will be accepted where you are visiting.
It is very important to make sure that you will have access to emergency care if you need it. If you take medication on a regular basis, see if it, or a generic equivalent, is legal in your host country.
Plan ahead to get enough medication to last your entire stay. If this is not possible, check the regulations on who can write a prescription in the destination country or how else you can get access to the medication.
Remember it is illegal in most places to send prescriptions through the mail.
Also, check who is in your insurance network. If you have strictly governmental insurance, this will likely be nonexistent, so you may need to budget extra money in your travel plan for accidents or health-care emergencies.
In addition, many study abroad programs  require that students maintain some form of insurance on their belongings. The same principle goes for mobility equipment and equipment repair.
Equipment available in some countries may be built to its own specifications that might not fit your needs. If possible, always carry as many spare parts as you can in case your mobility device breaks down.
This could put a damper on your whole trip if you are not prepared with a plan B. Moral of the story: Duct tape can fix anything.
Reach out.
This can take many forms. First of all, know how you are going to fund your adventure and any extra expenses that you may incur.
This may mean reaching out to donors, fundraising, applying for federal grants, scholarships, work stipends or pro bono volunteers. You will likely be using a combination of these methods to achieve your goal.
(See my current study abroad fundraising page as an example.)
Don't be afraid to reach out to organizations that may be able to help you get the support you need. In some countries, there is even a network of care support staff for those who need it.
Always get the contact information of anyone you interact with when booking flights, hotels, or any type of travel accommodation, and make sure to keep in touch with these people to ensure that your needs are met.
It's always a good idea to call or e-mail ahead of time to ask about various access needs. Keep in mind time differences when doing this.
Lastly, don't be afraid to reach out to others who have had a similar traveling experience. There is not much out there, so that may be the best resource of all.
Pick a friend's brain to brainstorm new ideas that help you get the best out of the experience.
Be comfortable with expressing your needs. Don't be afraid to ask for help.
This can be one of the most uncomfortable and frustrating situations no matter where you are, especially if you're used to doing everything yourself.
Again, keep in mind that some locations may not be designed to maximize your independence. Something that I found when traveling previously is that bystanders were much friendlier than expected in most cases.
What most destinations lack in physical accommodation, they will make up for in attitude. You are not going to know everything about the destination no matter how much you research. Being interdependent will make the situation much less stressful.
Think outside the box.
A good rule of thumb is if the idea seems wacky enough, it just might work.
Don't discount other solutions to your problems just because they might not be the most practical. For example, if you don't want to take two pieces of mobility equipment on your trip, consider renting one upon arrival at the destination instead of not using one at all. 
Know the law.
Know exactly what type of help you are entitled to before you go. For example, the UK has different specifications for air travel and it has a different way that it is required to help passengers aboard a small plane if they can't use stairs.
This may also apply to healthcare laws, service animals and mobility devices being allowed access into a certain location.
Have fun!
Let's be honest, here. This whole process is so overwhelming that it makes you want to pull your hair, teeth and eyes out! Remember what your goal is in going on this trip and what a great experience you will have that you'll remember for the rest of your life.
Why would you do this if you don't want to have fun? Don't let it suck the life and the energy out of you, or the naysayers win.
Some amazingly helpful resources to aid you in your quest: