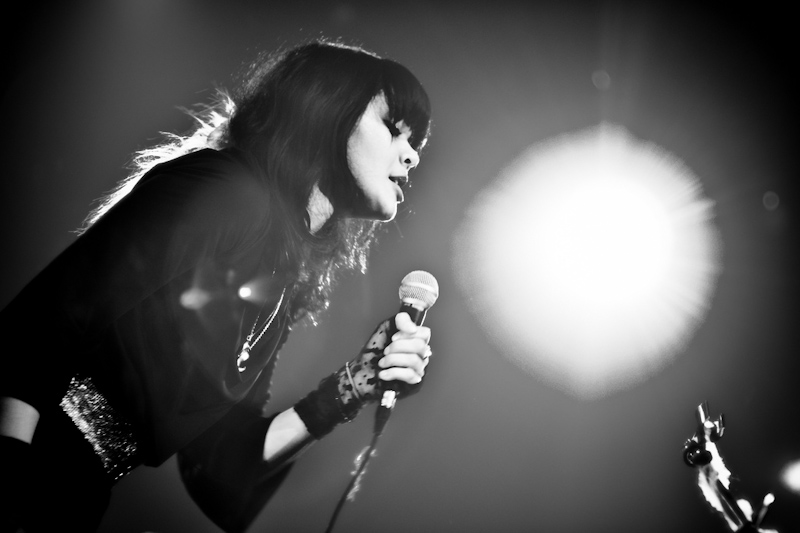 Dreary winter days getting you down? The only prescription is more cowbell (…or guitar…or synthesizers) courtesy of some great bands from across the pond.
You can pick your poison from a great lineup of UK musicians coming to Seattle in the coming months. There's a little something for everyone, whether you're keen on a bit of arena rock from one of the biggest names in music, craving the melodic angst of an '80s legend, or looking to get down and dance to the tunes of a few up-and-comers.
This may be the British invasion of early 2013. But rest assured, they're used to partying in the cold, cold rain too.
Muse:
[youtube http://www.youtube.com/watch?v=Ek0SgwWmF9w&hl=en_US&version=3]
Regarded as one of the most successful rock bands of the past 20 years, Muse are no stranger to playing sold-out arena shows and headlining music festivals.
This trio from the UK took their electro-rock to a decidedly more experimental level with last year's release The 2nd Law, weaving in both dubstep and glam influences. Their futuristic aesthetic allows for the loud and theatrical.
Thanks in part to frontman Matt Bellamy's soaring vocals, it isn't jarring. Their albums over the past decade have increasingly explored themes of war, revolution, and the evolution of technology, successfully setting themselves apart from their contemporaries. With more than 15 million albums sold worldwide, these are the go-to rock operas for the younger generations.
In addition to being critical darlings, Muse is also a huge hit with the awards circuit, having been nominated for this year's Grammy awards for Best Rock Album (they previously won this title for "The Resistance" in 2011) and Best Rock Song for their lead single "Madness."
Their live performances typically consist of massive light shows backing the band, lasers and bright graphics emphasizing every delicate keyboard riff and punching bass line. It's this jaw-dropping spectacle that has solidified the band's reputation of being one of the few major acts in music today that throws down a killer show every time without fail. And that's not just the diehard fans talking.
KeyArena on February 1st @ 7PM
Morrissey:
[youtube http://www.youtube.com/watch?v=t_Snd54c04Y&hl=en_US&version=3]
Despite what your health care professional tells you, wallowing in melancholy can in fact be an good thing.
For Morrissey, the patron saint of indie musicians everywhere, it's even built him a career and a loyal following.
Though his controversial, and often inflammatory, statements are typically what land him in the headlines nowadays, Morrissey is best remembered as the lead singer of The Smiths, one of Britain's most well-respected bands of the 1980s. Swiftly following the band's demise in 1987, Morrissey began his solo career and with his debut album "Viva Hate" established himself as the pioneer of a more subdued kind of music in a post-punk/New Wave world. In fact, many musicians credit him for laying the framework for Britpop and the modern indie rock genre we know and love today.
Primarily celebrated for his lyrical work, Morrissey has no qualms with exploiting his own emotions. Brutal honesty, in regards to relationships, politics, and everyday life in England, make up the lyrics that pack a punch and his overall dissatisfaction with "the state of things" colors his commentary.
It's this transparency that draws audiences to him time and time again, just as his iconic deep vocals are as recognizable as that questionable hairstyle. Though his most recent studio album, "Years of Refusal," was released back in 2009, this tour promises an exploration of his greatest hits and the unveiling of some unreleased songs–just a hint of what's to come.
Moore Theatre on March 6th @ 7:30PM
Frightened Rabbit:
[youtube http://www.youtube.com/watch?v=KY4j8Ow-CTs&hl=en_US&version=3]
Though they may look like our boys from down the block, those accents don't lie. This Scottish band is releasing their fourth studio album "Pedestrian Verse" next month just in time for their upcoming US tour.
Frightened Rabbit has that classic sound we've all come to associate with acoustic guitar-driven indie rock, with a disposition quite similar to groups like Neutral Milk Hotel, The National, and Seattle's own The Head and the Heart.
The group's folk-twinged melodies and strumming guitars complement choruses that you just can't help but sing along to, though the lyrics reveal the band's moody and somewhat bleak outlook on life, tackling themes of isolation, waning relationships, and disillusionment.
But don't let that scare you away. The emotions are rich and the vocals are sincere and extremely relatable. And it's just soulful enough for you to recognize the optimism and strength shining in between the lines.
Showbox at the Market on March 8th @ 7PM
Django Django:
[youtube http://www.youtube.com/watch?v=DDjpOrlfh0Y&version=3&hl=en_US]
Though Django Django arrives in town just days after their countrymen Frightened Rabbit, the two groups are at completely opposite ends of the spectrum.
This electronic group seamlessly combines their heavy New Wave, psychedelia and funk influences with their distinctly Scottish swagger into a sound that screams modern.
Hot on the heels of last year's self-titled debut album, which was nominated for the UK's coveted Mercury Prize, Django Django are embarking on a North American tour this spring.
Hoping to bring their feel-good attitude across the pond, their chirpy keyboards and staccato guitars underneath android-like vocals are sure to set them apart from what's currently dominating the airwaves.
Although their debut is a case of style over substance, the tunes are relentlessly upbeat and playful, making for an energetic and downright fun live show. For those of you who are wondering, yes, this is exactly what art pop of the 21st century sounds like.
Neptune Theatre on March 19th @ 8PM
Bat for Lashes:
[youtube http://www.youtube.com/watch?v=EXK0Ejzin4c&hl=en_US&version=3]
Though US pop culture may not ever warm to the genre, dream pop (or atmospheric pop rock, for the less patient of us) has been taking the indie music scene by storm over the past decade.
Bat for Lashes, the stage name of English singer/songwriter Natasha Khan, is one of the artists who has successfully carved a niche for herself, earning respect and endorsements from more visible artists like Radiohead and Beck.
Her third studio album "The Haunted Man" was released last October to the delight of critics, landing on many Best of 2012 lists and gaining Khan more attention stateside, including an inventive feature on Pitchfork Media.
Calling upon the influences of nature and mythology, Khan crafts her songs with equal amounts of folk and electronica sensibilities. As a result, the music ends up sounding both organic and otherworldly when she combines the use of saws, autoharps, and tribal percussion with synthesizers and drum machines.
Though the melodies are simplistic, the layers upon layers of sound mesh well with her lyrics. Rich with imagery whether they stem from the deeply personal or the fantastical, her narratives and style draw comparisons to everyone from Kate Bush to Florence and the Machine.
The ethereal vibe translates incredibly well to a live setting and just as her genre would suggest, that kind of spiritual energy is enough to put you in a trance.
Showbox at the Market on April 16th @ 9PM