As I sat clicking dispiritedly through take-out menus in search of lunch, Chi Sun Lu walked by my desk on her way outside for a quick cigarette.
"Lu," I asked, "Can you recommend any really good, authentic Chinese restaurants in town?"
She stopped in her tracks, turned, and eyed me silently as though waiting for the punch line. Uh-oh.
"I'm sorry, is that offensive to ask?" I blushed.
That Lu is Chinese was no secret – her father lives at the assisted living community where I work, and he's a rather famous Chinese ink painting artist.
"You're kidding, right?" she asked. "You know my sister owns a restaurant. Google it: Green Village restaurant in Chinatown."
Taking her advice, I found out two things right away: First, Green Village has a widespread reputation for great food.
Second, the food there is Chinese-Taiwanese. "Chinese-Taiwanese?" I asked Lu. "That's where my father fled during the Revolution," she replied.
Deaf since childhood as the result of illness, Chun-O Lu was the founder and president of a school for deaf and mute children in China. He was also in love with a young deaf girl.
As the lengthy war between the Kuomintang (The Chinese Nationalist Party), and the Communist Party of China raged on, and Nationalist Party sympathizers became refugees.
Chun-O and his then-girlfriend (now wife of more than 63 years) fled to Taiwan in 1951. This experience, Lu suspects, partly explains her mother's determination to bring all the members of her growing family with her when she entered the restaurant business.
The Lu family once owned four restaurants.
"It was a way to keep the family close together," explained Lu. After working in other people's restaurants for years, it was their mother who finally decided that it was time to branch out on their own, noting that the family was large enough to do it all themselves.
Now, 33 years on, Green Village is the sole remaining restaurant, run by Lu's sister Wendy as a labor of love.
Wendy Lu greets every guest in her restaurant, most by name, from her perch behind the counter.
Wendy runs the "front of the house," greeting customers by name and singing orders across the counter to her husband Denny, the chef.
[youtube http://www.youtube.com/watch?v=Ie1ZYNwmYKg]
"The House Special Fried Rice is a must," she told me, and I was happy to take her recommendation. "I'd like one of everything," I joked.
Moments later, as I gawked at the table that was being quickly overtaken by egg rolls, rice, soups, and some absolutely ethereal dumplings, I realized that cooks will take you at your word when you tell them you want to eat.
The dumplings are handmade, a process I was able to watch up close.
Wendy's hands are a blur as she flies through the process, turning out one perfect parcel after another. She has been making them for so long that she turns out a dozen in just a minute or two. Served in a rich, dark sauce, they are pillowy perfection.
But good as they are, my heart belongs to another dish on her giant menu board.
"Pork Pickle Noodle Soup," I tell Lu. I have to try it. My little German heart cries for it. Lu calls over to Wendy, who sings back to her sister something that makes her chuckle.
"She asked if you were sure," she said. "She says not many Caucasians order that." In fact, I am blazing my own trail with this one. Wendy has recommended the Beef Noodle Soup, but I was lured by a siren song.
A little like Phở, it has a delicate, almost floral broth, and only the slightest hint of the vinegar bite I expected. And yet it's strangely addictive – in fact, I was compelled to try my own quick-and-dirty version at home the next night. (For the curious: stick with the Green Village version. Trust me on this.)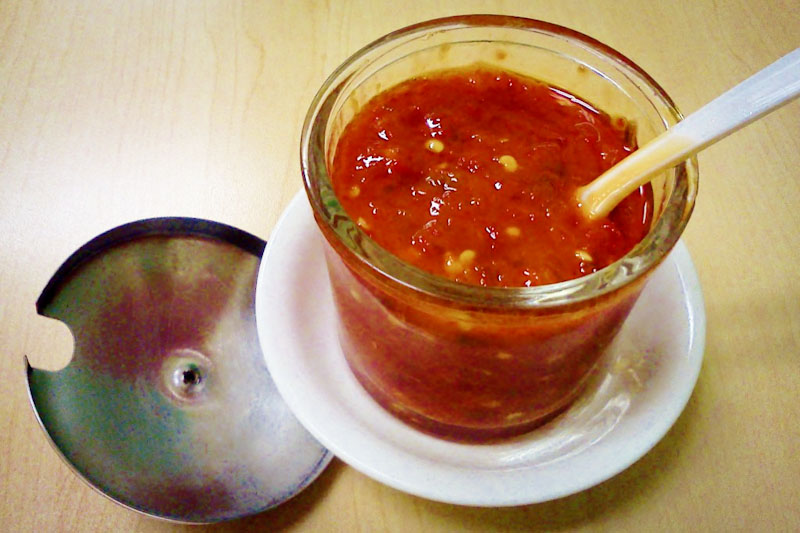 The House Special Fried Rice was, as promised, delicious, but the real kicker on that was the fresh, homemade pepper sauce. Upon hearing that I'm a bit of a chili head, the sisters urged me to try it, smirking to themselves in a not unkind but not entirely wholesome way as I spooned it out generously onto my rice.
I told Wendy, between giant mouthfuls, that she should bottle and sell that sauce. Apparently I'm not the first to suggest it, but as it's made in house in small batches and without preservatives (her customers go through it far too quickly to merit any). She said I'll just have to come back to the restaurant for my next fix.
It's a deal.
Green Village Restaurant is located at 516 6th Avenue South across the street from Uwajimaya. It's open 11 a.m. – 5 p.m., Monday – Saturday. Cash only.