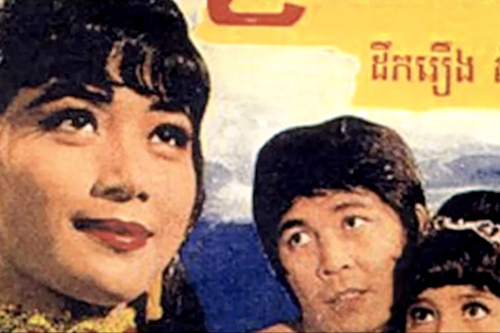 Inside the gutted remains of a 1000-seat movie theater that now is home to hundreds of squatters, an old woman sits with a baby in her lap and retells the plot of a Cambodian movie she loved as a child.
The movie she speaks of probably no longer exists, destroyed under the reign of the Khmer Rouge along with most of the works produced during Cambodia's lost golden age of film.
Golden Slumbers is a poignant recollection of that flourishing Cambodian film era that existed between 1960-1975; an era that saw the production of over 400 movies and the explosion of cinematic culture as people flocked to the movies to forget the escalating turmoil of the war.
But nearly all the films from that time were lost, as were the lives of filmmakers, producers and actors who were targeted and executed by the Khmer Rouge as subversive enemies to the state.
Director Davy Chou, the grandson of prominent Cambodian producer, Van Chann, artfully weaves together interviews with surviving members of the movie industry, archival scores and footage of old studio and cinema locales to tell the story of this lost era.
And much of the footage reveals the unspoken gap in experience between those who lived through the atrocities of the past and the younger generations that now shoot pool and sing karaoke in the transformed remnants of once-bustling theaters.
"If I shared my memories with you it would break my heart, again, for no purpose," says filmmaker, Yuan Hem, to his children as he walks them through a cracked courtyard that was once the Bird of Paradise Studio.
The film, which plays Wednesday and Thursday, gracefully resurrects the broken past and bridges it to the present.
Each interview is set up in a way that is visually unique and decidedly resonant with the subject, underlying Chou's reverence for the topic.
Chou uses only the barest amounts of archival footage, underscoring just how many of the films were lost forever. Instead he uses movie posters, songs, radio announcements and most importantly, footage of people just telling stories about the movies they remember. And at times, the retelling seems more potent than glimpses of the actual films.
The pace drags in places, namely during the over-extended finish which caused even a roomful of avid film folks to collectively fidget about 15 minutes ahead of the credits.
But if you can forgive the downfalls in tempo, Golden Slumbers is an elegant narrative and a worthy pick from this year's SIFF documentary offerings.
SIFF Cinema Uptown: May 30th @ 6:00 PM
SIFF Cinema Uptown: May 31st @ 3:30 PM
Allison Barrett is a journalism student at the University of Washington and a former intern for the Common Language Project. Her work has been published by the Seattle Times, Next Door Media, Northwest Asian Weekly and several other local news organizations.