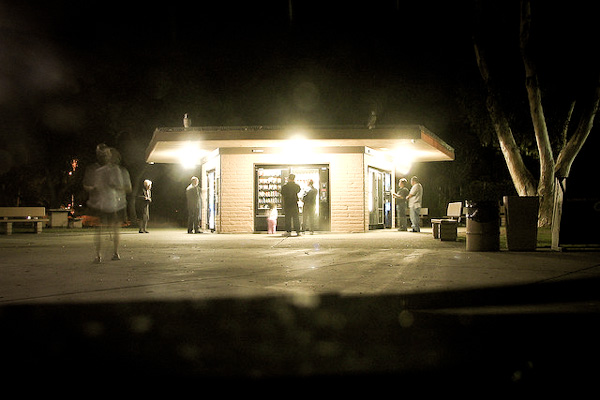 The border with Canada, international port, and farm work make Washington State a hot spot for slavery and human trafficking. But our state is also a leader in innovative anti-trafficking action.
The State Attorney General's office website boasts that, "Washington was the first state to pass a law criminalizing human trafficking and we have the most stringent law in the country."
Tough laws are important, but traffickers typically chain their victims psychologically rather than physically, so raising awareness amongst victims that they have a way out is the biggest challenge.
That's why recently the state has installed posters in 21 highway rest stops in Washington that aim to speak directly to trafficking victims. The idea is that someone would see the poster, remember the phone number and call. From there, the trafficking hotline can help people over the phone.
Seattle Against Slavery (SAS) has organized the poster campaign in Washington, as part of a larger campaign occurring in several states.
"This is really targeted on people who need help," said Robert Beiser, interim executive director of SAS. "People who are in a situation they don't want to be in, who are forced to work or forced into prostitution and want to find a way out, and this will help them connect with the services they need."
According to Beiser, people have left trafficking situations in certain industries in Washington such as domestic service, nail salons, construction, and farming.
"But it really can be anywhere in labor where someone looks to exploit someone else," Beiser said.
This postering effort started around the 2010 Vancouver Winter Olympics. Organizations believe that large sporting events attract trafficking, so volunteers placed posters in rest stops along I-5 and I-90 during the Olympics.
Beiser said that they rushed the initial effort. Volunteers throughout Washington downloaded a file, printed sheets of paper and taped them up in rest area bathrooms, with SAS tracking the progress. But the translations were not well-worded and the posters didn't last long. Since then, SAS has worked with the Washington State Department of Transportation and other organizations to put up better, permanent posters.
Rest stops offer a strategic location to display trafficking related information.
"Because rest stops are along the highways and they're not staffed by a particular people, they are a place where a trafficker may stop and allow his victims to use the restroom, if they're being transported across the state or into the state," said Kathleen Morris, program manager of the Washington Anti-trafficking Response Network (WARN).
SAS connected with several organizations such as the Washington Advisory Committee on Trafficking and WARN, who work with trafficking survivors, to find out how to best translate the message on the poster into seven languages, taking into account cultural sensitivities.
The seven translations reflect groups at highest risk for trafficking in the Pacific Northwest.  The poster appears in: Russian, Vietnamese, Tagalog, Chinese, Korean, Spanish, and English.
Washington traffickers bring people from East Asian countries because it is easier to use trade routes that industries have already established. Homeless youth and foreign-born people in Washington State are also at risk.
"Foreign nationals are a more vulnerable population," Beiser said, "because they don't necessarily know their rights. They don't have connections to government organizations and they might not have comfort with connecting to government organizations who would offer them protection."
These posters are one way that organizations hope to connect survivors of human trafficking with services. Seattle Against Slavery is currently working to raise funds to install permanent placards in all of Washington's rest stop bathrooms: http://www.seattleagainstslavery.org/no-one-should-be-forced/
Sean Duncan is a freelance writer in Seattle, Washington who writes about electronic dance music and everything else.