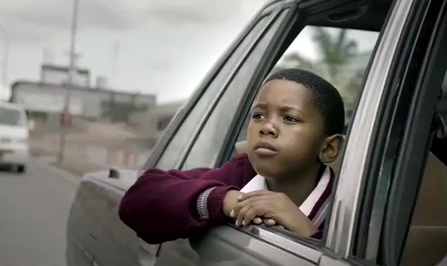 Of the 460-odd films from 64 different countries playing at SIFF this year, only a thin slice hail from Africa.
To be fair to the SIFF programmers, they can only screen the films that get submitted, and only a few African countries have robust film scenes.
But c'mon – only 5 features and 4 shorts? Last month's Langston Hughes African American Film Festival did better.
The festival's flagship African film How to Steal Two Million (see full review below) is an underwhelming crime-drama cliché.
But despite the slim pickings, there are some sturdy picks, outlined below. Globalists turning out in numbers for these will send a message that we want more next year!
How to Steal Two Million – South Africa
SIFF Cinema Uptown, May 27 @ 8:30 PM
How to Steal Two Million doesn't do anything new, but it does do it in a novel setting. The minimalist, gritty frames, heavily shadowed face shots and comic book-like scenes encase a plot that never veers an inch away from that tried and true recipe for classic, film noir crime thriller:
Jack, played by South African TV actor Menzi Ngubane, is an ex-con who longs to do right and step out of the confines of his violent, criminal past. But his hometown doesn't look kindly on his unlawful history. His dreams of honest business wither and Jack is suckered into one last heist by his deceitful ex-partner, Twala (Rapulana Seiphemo).
The ensuing every-man-for-himself storyline leads you through the bleak concrete squares of Johanasburg as you watch Jack overuse his sidelong glance, slowly pull on cigarettes, sulk over hardwood bars and succomb to disaster.
While director Charlie Vundla's movie does not stun with innovation, it does offer this: a taste of cinema from the vast continent that does not adhere to the typical "African entry" film festival fare: portraits of health crisis, poverty, corrupt government and warfare.
And besides the visual tour of Johanesburg, the film also gives you the chance to listen to characters who float effortlessly between four languages, including Zulu and English, in a stimulating vernacular mash-up that saves the otherwise stilted dialogue. (Bonus: all gangster-thriller clichés and guttural expletives are uttered in English for easy absorption.)
Consider spending your last stolen dollars here instead:
Fishing without Nets – Kenya
SIFF Cinema Uptown, Shortsfest Opening Night, May 24th @ 7:00 PM
Filmed in Kenya, Fishing without Nets is a narrative short film that tells the story of Somali piracy from the perspective of the fishermen-turned-water-rouges that have held the world's attention and commercial shipping routes through the Arabian Sea at bay.
Directed by twenty-five-year-old Cutter Hodierne, the film won jury prize for short filmmaking at this year's Sundance Film Festival.
Lucky – South Africa
AMC Pacific Place 11, May 25th @ 4:00 PM
SIFF Cinema Uptown, May 29th @ 6:00 PM
Kirkland Performance Center, June 10th @ 3:15 PM
In the wake of losing his mother to AIDS, Lucky, this story's ten-year-old protagonist, sets out from the confines of his rural village to pursue higher education in Durban.
Shunned by his troubled uncle, Lucky befriends his elderly Indian neighbor who reluctantly takes him in despite her deep-rooted mistrust of Africans.
The original short version of Lucky won 43 international film festival awards and was shortlisted for an Oscar.
The Beautiful Game – Ghana, SouthAfrica
SIFF Uptown Cinema, May 31st @ 7:00 PM
SIFF Uptown Cinema, June 2nd @ 12:30 PM
A panoramic documentary that examines the world's most powerful sport. Okay, it's actually an American film, but it showcases young players from Nigeria, Ghana, The Ivory Coast, South Africa, Egypt and Cameroon and the dynamic ways that soccer fits into the tapestry of so many people's lives.
Otelo Burning – South Africa
Everett Performing Arts Center, May 27th @ 6:00 PM
AMC Pacific Place 11, June 8th @ 3:30 PM
AMC Pacific Place 11, June 9th @ 6:30 PM
Set in a South African township during the end of apartheid, local youth surf to find freedom from the political turbulence of their time.
My Name is Feker – Ethiopia
SIFF Uptown Cinema, Around the World, May 26th @ 6:00 PM
My Name is Feker is a delicately-told short about prostitution. The tale of Feker, who has escaped her life of sex-work, is told by following the lives of three other girls who have not.
Zebu and the Photo Fish – Uganda
SIFF Uptown Cinema, The Family Picture Show, May 27th @ 11:30 AM
Zebu is the son of a fisherman who gets tired of following his father's futile efforts to pay off a debt at the expense of Zebu's sick mother. Young Zebu takes matters into his own hands and embarks on an adventure to clean his family's debt, find his mother treatment and restore stability to his family.
Allison Barrett is a journalism student at the University of Washington and a former intern for the Common Language Project. Her work has been published by the Seattle Times, Next Door Media, Northwest Asian Weekly and several other local news organizations.