The Seattle International Film Festival returns May 17, boasting a line-up of 459 films including 24 feature films making their world premiere.
And as usual, this year's lineup stays true to the International in "Seattle International Film Festival" with a ton of foreign films that you probably won't get another chance to see.
To help you cull through the enormity of global offerings this year, here's a rundown of top picks we put together with the help of the fine folks at SIFF:
The Chef
Jacky Bonnot (Michaël Youn) is an aspiring young chef, a lover of haute cuisine constrained to odd jobs and fryers by his shaky finances.
Alexander Lagarde (Jean Reno) is a celebrated chef, resisting the takeover of molecular cuisine and the grip of greasy financers.
When the two meet, writes SIFF, the results are deliciously funny in the culinary comedy that has its North American Premiere in this year's festival.
[youtube http://www.youtube.com/watch?v=cf2Nk3Ld8Og]
(d: Daniel Cohen c: Jean Reno, Michael Youn, Raphaëlle Agogue, Julien Boisselier, Salomé Stévenin, France 2012, 85 min)
Egyptian Theatre: Saturday June 2, 6:00 PM
Tey
Tey, which means "today" in Wolof, is a modern-day fairy tale, a story about Satche, a young Senegalese man (played by American Saul Williams) who wakes up knowing somehow that today is the last day of his life.
Director Alain Gomis hopes to reinvigorate Senegalese cinema with this film that SIFF describes as "an extraordinary portrait of a man's final day with the people and places of his life."
[youtube http://www.youtube.com/watch?v=3RokoPidCOo]
US Premiere (d: Alain Gomis c: Saül Williams, Djolof M'Bengue, Anisa Uzeyman, mariko Arame, Aîssa Maiga, Senegal/France 2012, 86 min)
SIFF Cinema Uptown: Friday May 18, 6:00 PM
SIFF Cinema Uptown: Saturday May 19, 2:30 PM
AMC Pacific Place 11: Monday May 21, 9:00 PM
I Wish
The story of two brothers, divided by their parents' divorce, who dream of bringing their family back together by making a wish at the magic junction of two bullet trains.
I wish is shaped by "documentary-like observation and fine-layered fictional crafting," that is present in other Kore-eda's films, writes the Japan Times.
And the result is a witty, involving, upbeat story about kids and the miracle of life.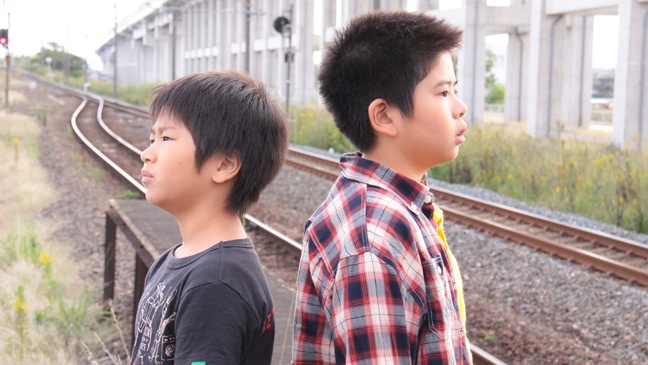 (d: Hirokazu Kore-eda c: Koki Maeda, Oshiro Maeda, Joe Odagiri, Ryoga Hayashi, Seinsosuke Nagayoshi. Japan 2011, 128 min)
Egyptian Theatre: Sunday June 3, 6:30 PM
Egyptian Theatre: Wednesday June 6, 4:00 PM
Starbuck
Prolific sperm donor and meat deliveryman, Starbuck (Patrick Huard), learns later in life that out of his multitude of matured deposits, 142 want to meet him.
"A potent comedy of genetic chaos," Starbuck won the Audience Award at the Palm Springs International Film Festival.
[youtube http://www.youtube.com/watch?v=1S7nLH-hbH0]
(d: Ken Scott c: Patrick Huard, Antoine Bertrand, Julie le Breton, David Michael, Patrick Martin, Canada (Québec) 2011, 109 min)
Kirkland Performance Center: Thursday May 31, 8:00 PM
Egyptian Theatre: Friday June 1, 6:30 PM
Egyptian Theatre: Thursday June 7, 9:00 PM
King Curling
Norway's answer to the Big Lebowski. Former curling champion Truls Paulsen (Atle Antonsen), diagnosed with Obsessive-Compulsive Disorder and banned from the sport, returns in disgraceful glory to win championship prize money for his ailing old friend and former coach.
[youtube http://www.youtube.com/watch?v=t8NH77CS2V4]
(d: Ole Endresen c: Atle Antonsen, Jan Sælid, Jon Øigarden, Linn Skåber, Ane Dahl Torp, Norway 2011, 75 min)
SIFF Cinema Uptown: Wednesday May 23, 9:30 PM
Egyptian Theatre: Saturday May 26, 9:45 PM
SIFF Cinema Uptown: Wednesday May 30, 4:30 PM